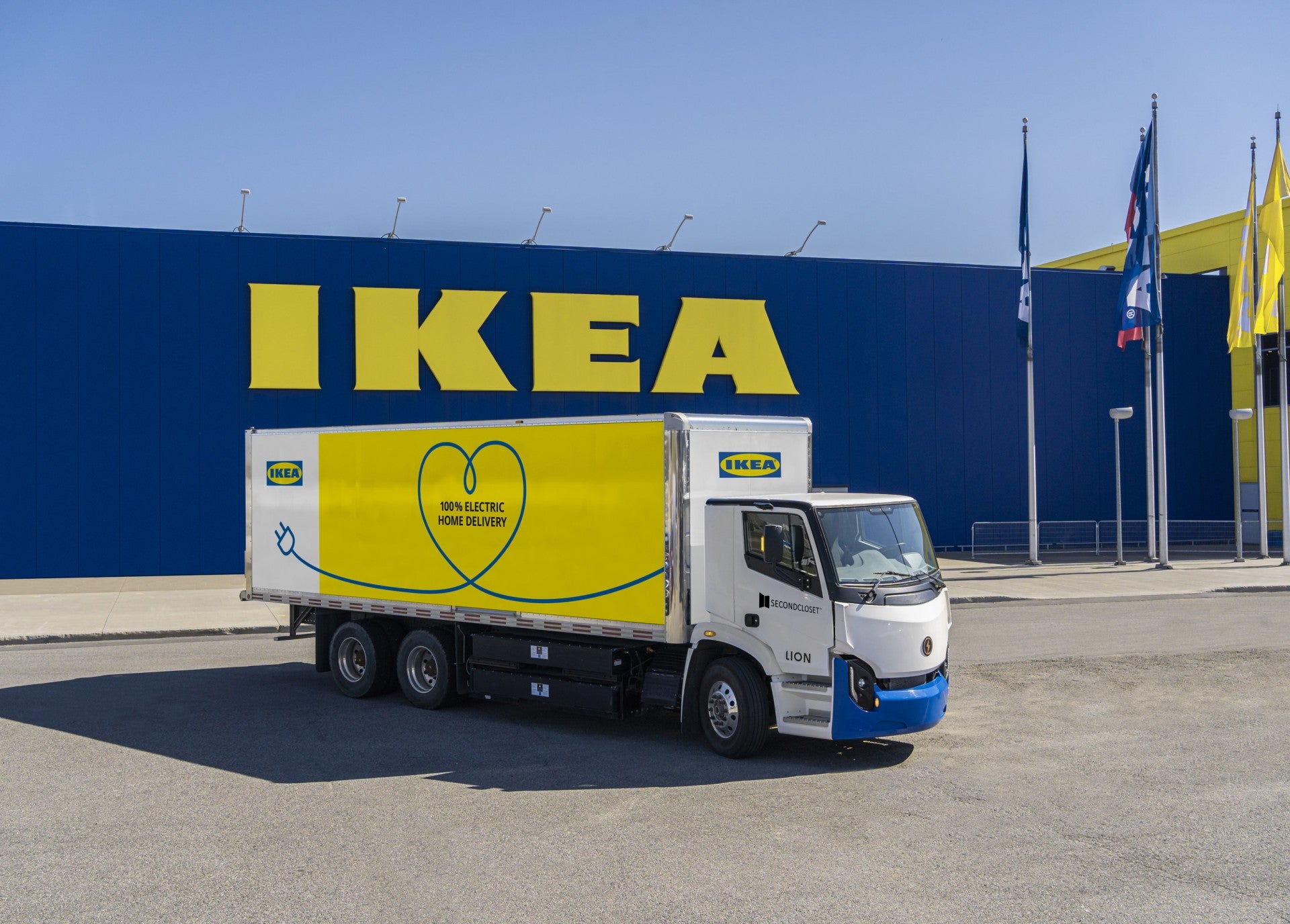 IKEA Canada has partnered with last-mile delivery service provider Second Closet to introduce co-branded zero-emission delivery trucks.
Second Closet has ordered 15 heavy-duty trucks from all-electric medium and heavy-duty urban vehicles manufacturer Lion Electric.
The five-tonne electric trucks will be integrated into Second Closet's fleet for deliveries for IKEA locations in several markets across Canada.
The trucks are due to be operational in Quebec, Ontario and British Columbia by the end of the year.
This move is part of IKEA Canada's ongoing commitment to make all its deliveries zero-emission by 2025, and will help IKEA achieve 20% of its zero-emission delivery goals.
To help reduce employees' and customers' relative emissions by 2030, the retailer has installed electric vehicle (EV) chargers at all 14 of its stores in Canada.
IKEA Canada CEO and chief sustainability officer Michael Ward said: "Electrifying our last-mile delivery service is an important step in our journey to become climate positive by 2030, especially with the rapid acceleration of our online business over the past year.
"We are pleased to work with Second Closet and Lion Electric, two great Canadian innovators, to support us in meeting our customers with people and planet in mind."
Second Closet co-founder and CEO Mark Ang said: "A key area of focus for Second Closet is ensuring both the quality and sustainability of our processes.
"In addition to making this important investment in EVs for our fleet, we have also retrofitted our facilities with highly energy-efficient lighting and have a circular supply chain for our corrugated boxes and other consumable materials.
"We are pleased to be working closely with IKEA Canada and Lion and look forward to seeing these trucks on the road making deliveries."
Last month, IKEA Canada announced plans to expand its footprint by opening its first downtown store in Toronto.
The 6,148m² store will be designed like a traditional IKEA store, but smaller and more in line with the neighbourhood's urban fabric.