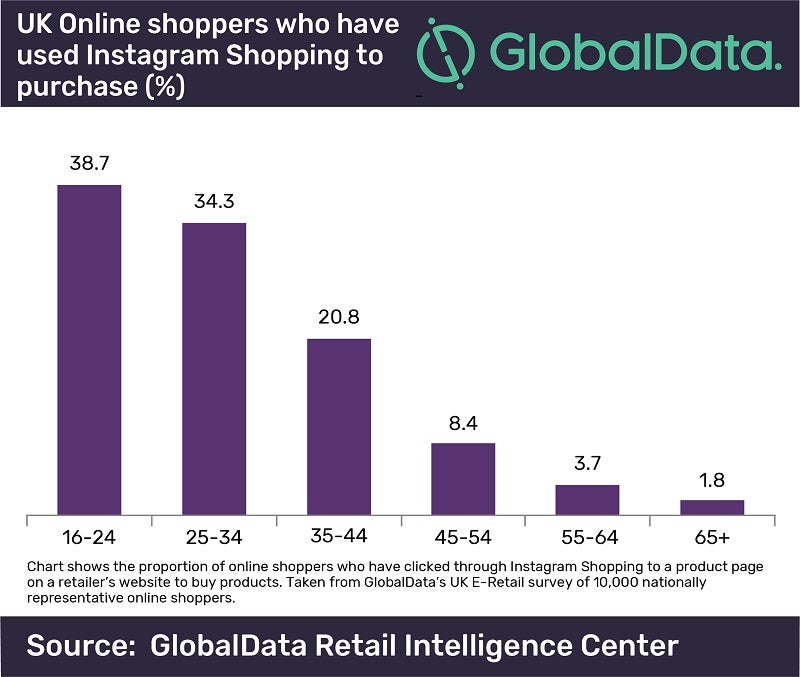 Retailers should understand the potential of social media in terms of sales, as 38.7% of online shoppers aged 16-24 say they have used Instagram to buy items, according to a GlobalData report.
Instagram launched its Shopping feature in March 2018, allowing brands to tag their products on a post. Users are then able to click on the tags to see more information about the product including the price and are given a direct link to the company's website where they can buy the item.
According to Bazaarvoice's annual Shopper Experience Index, consumer interest in shopping through social media platforms rose by 38% in the 12 months to March 2019. GlobalData's 2018 Q4 consumer survey found more global consumers aged 18 to 44 say they are more likely to make purchases through their smartphones compared with older age groups.
GlobalData retail analyst Emily Salter said: "Retailers targeting young consumers need to seize the opportunity created by the new shopping habits of his demographic as they increasingly use Instagram Shopping as a platform to make purchases. Using the tool, retailers can promote specific products to a huge number of followers – for example, H&M and ASOS have 30.0 million and 9.3 million respectively – and engaged shoppers in particular, boosting impulse purchases.
"However, stock availability is vital to ensure the effective use of Instagram Shopping, as the products featured and tagged on Instagram Shopping have heightened visibility compared to the rest of the retailer's products.
"Retailers should be prepared for greater popularity of featured items and use forecasts based on previous reactions to avoid stuck selling out too quickly. For instance, Marks & Spencer often highlights products on Instagram Shopping that rapidly sell out, leading to numerous comments from frustrated shoppers, creating a more negative perception of the shopping experience."