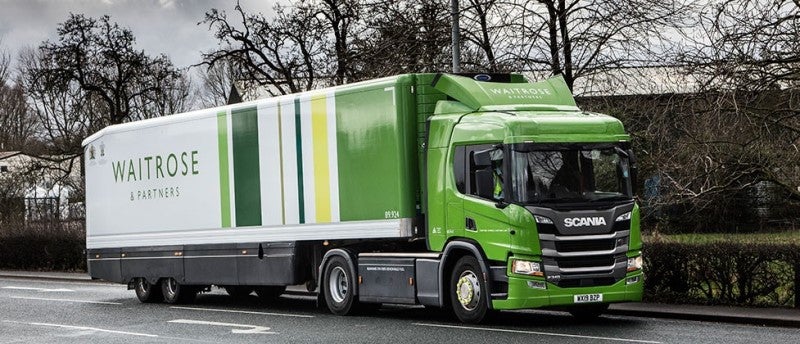 Department store operator John Lewis Partnership has announced its aim to end fossil fuel use by 2030.
The announcement is part of its commitment to become net-zero carbon across full operations by 2050. It has a transport fleet of 4,800 vehicles.
In line with this, the retailer has partnered with Air Liquide to construct a new biomethane gas filling station at its head office in Bracknell.
It expects the first on-site gas filling station for its heavy goods vehicles to be operational by December.
Around 120 Waitrose heavy goods trucks will be able to cut CO2 emissions by 80% through this initiative, according to John Lewis Partnership.
In addition, it is planning to introduce 1,750 electric vans and light trucks, convert nearly 750 diesel refrigerated trailers to electric drive and 1,300 car fleet to 100% electric.
The employee-owned business also noted that those vehicles that cannot be converted to biomethane or electric will run on hydrotreated vegetable oil (HVO) biodiesel.
John Lewis Partnership central transport partner and general manager Justin Laney said: "The evidence of climate change is all around us, so it's important we act now using available technology rather than wait for unproven solutions to appear.
''We are working hard towards our new aim of removing all fossil fuel from our transport fleet by 2030, which will reduce our carbon emissions by over half a million tonnes and gets us well on the way to our ultimate target of operating a net-zero carbon emission fleet."
Furthermore, the company is replacing the refrigeration units used in Waitrose with Hydro Fluoro Carbon (HFC)-free refrigerators in order to reduce carbon emissions produced by its shops.
The John Lewis Partnership owns and operates 50 John Lewis & Partners shops across the UK and 338 Waitrose & Partners shops in England, Scotland, Wales and the Channel Islands.
Last month, John Lewis Partnership reportedly revealed plans to reopen its department stores in a phased manner in line with the UK Government's announcement to reopen non-essential retail starting from 15 June.