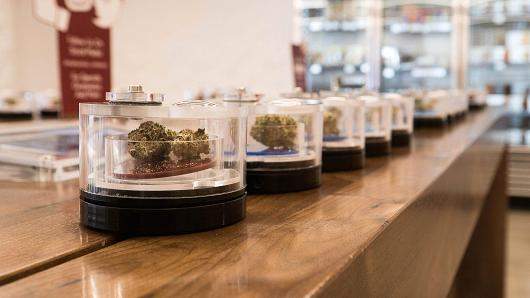 The growing market for legal cannabis in the US is creating opportunities for entrepreneurs catering to the market for alternative pot-based products such as high-end edible and beauty products.
Analysts at cannabis industry research group ArcView Research report that edible and beauty segments are the fastest-growing in the nine states in which non-medical cannabis use is legal. They both got a boost after California formally legalised recreational weed at the beginning of 2018.
ArcView estimates the legal cannabis market will grow to nearly $15 billion by 2021, with edibles and additional cannabis products representing a significant part of that figure.
Currently residents of the 29 US states that have legalised its medical use can obtain cannabis-infused products online for medical use, and a few brands cater to this market. Last year luxury brand Beboe was launched to deliver anything from weed grinder necklaces to pot print motifs. It says it delivers high-end products for 'more sophisticated weed consumers' and has created cannabis-infused products such as vaporisers and edible pastilles.
Kiva is one company that saw a gap in the market for edible quality and certified products. It sells cannabis-infused bars, mints and chocolate and coffee bites. Défoncé Chocolatier produces a range of chocolates infused with pot that are gluten-free and organic. And Herb Essentials brings skincare products to the market, which as website claims 'utilise the unique beneficial properties of cannabis'.
The legalisation of recreational cannabis in California has opened the doors for this market both online and in stores, with businesses that have acquired the requisite starting to sell pot since 2 January 2018.
MedMen, US retail company selling marijuana and marijuana products, announced last month its desire to go public in Canada due to stringent regulatory restriction in the US.
Following the legalisation of recreational pot in California, San Francisco's DA dismissed thousands of marijuana-related convictions.