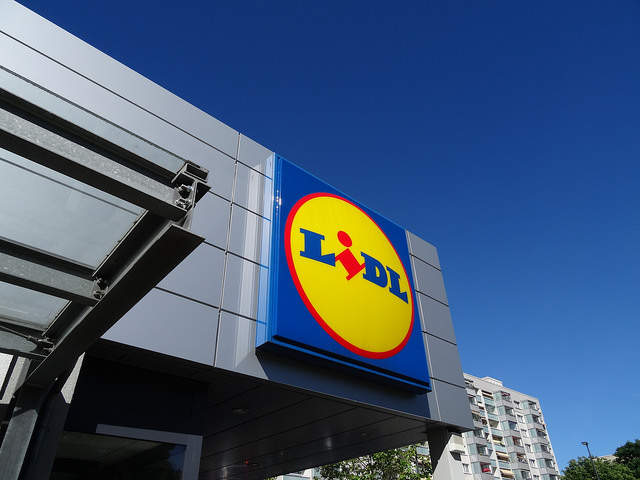 Discount grocery retailer Lidl has increased its market share by 0.5% while sales climbed by 16.3% in the twelve weeks to 28 January 2018 compared to same time last year, making it the UK's fastest growing retailer.
Fraser McKevitt, head of retail and consumer insight at Kantar Worldpanel, said: "Traditionally focused on own-label lines, Lidl has actually seen fastest growth among its branded products, which are up by 28% and now account for 12% of all sales."
Christian Härtnagel, CEO of Lidl UK, said: "We're proud to have held our position as the UK's fastest growing supermarket. Following our best ever Christmas, today's Kantar figures show that shoppers across the country are increasingly choosing Lidl for their full grocery shop."
He added: "Whether it's our quality British fruit and vegetables, our fresh bakery offering or our middle aisle bargains, customers are finding everything they need, at Lidl prices. We look forward to bringing Lidl to more communities across the country in 2018, as our expansion plans continue."
Lidl reported a record rise in sales over Christmas last month, claiming to be the 'fastest growing supermarket' a title which has now been confirmed by Kantar Woldpanel.
22 December marked a record trading day for the discount retailer, with a week before Christmas being its 'strongest ever'.
Christian Hartnagel said: "Lidl UK has had a fantastic 2017 and this was capped by our strongest Christmas trading period to date.
"Customers came into our stores to buy more of their Christmas items, knowing they could find high quality products at market-leading prices," he added.
Despite the decline in consumer spend post-Christmas, Kantar Worldpanel's latest market share figures for 12 week period across retailers reveal that grocery sales have increased in value by 3.4% compared to this time last year.
Fraser McKevitt said: "Following a record-breaking Christmas, January saw customers rein in their spending, with shoppers spending £1.6 billion less in the grocers compared with the month before.
"Households saved £63.04 on average over January compared to December 2017; customers spent £3.39 less every time they shopped and sales of premium own-label products nearly halved," he added.
Kantar also revealed that Tesco still remains the fastest growing out of the big four, despite market share falling by 0.3%. The supermarkets sales have increased by 2.6% during the period.
Asda and Morrisons sales also increased, both by 2.2%, while their market share fell by 0.2%.  Asda achieved this by encouraged customers to add extra items to their basket, while Morrisons customers made an additional five million trips to the supermarket compared with this time last year.
Sainsbury's sales increased by 1.5% to while its market share fell by 0.3 percentage points to 16.2%. Sainsbury was the only supermarket outside Lidl and Aldi to attract additional shoppers, gaining 311,000 shoppers through online sales and expanding convenience stores.
Co-op, which sold nearly 300 stores to McColls, has had its market share drop by 0.2% to stand at 5.8%, and noted a sales growth of 0.1%.
Waitrose grew overall sales by 1.5% but saw market share fall by 0.1 percentage points.
Iceland experienced its 23rd period of consecutive growth, with sales increase of 1.6% and a steady market share of 2.3%.
Internet-only retailer Ocado was the only one not to lose market share to the discounters; it continued its rapid sales growth which increased by 7.8% with a market share held at 1.3%.