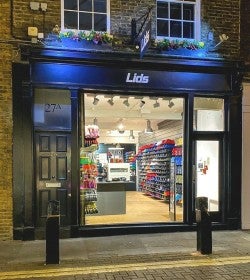 US-based sports retailer Lids is set to open its first standalone stores in Europe as part of its international physical store footprint expansion plans.
The company has already opened one of these stores in Seven Dials in London, UK.
Later this month, Lids will open three more stores in London, Essex and Brighton respectively.
Each store will house a wide assortment of products from major US leagues and teams, including MLB, NFL and NBA.
The stores will also offer products from a range of go-to brands, including adidas, New Era Cap, '47, Mitchell & Ness, Hurley, Oakley and Local Crowns.
They will also offer Lids' signature Custom Zones, which allow consumers to customise a hat or other apparel item of their choice in-store.
Lids chairman and CEO Tom Ripley said: "Expanding in the UK is our top priority at Lids.
"We have become one of the strongest retailers in North America and we're thrilled to take this growth internationally as we look to open 100+ standalone Lids stores in new markets.
"There has already been great success with the London NBA store operated by Lids since its grand opening earlier this year, and we are excited to introduce standalone stores to an even larger audience of British customers."
Lids specialises in selling officially licensed and branded headwear and operates almost 2,000 stores across the US and Canada.
Some of these stores were opened under the retailer's ongoing retail partnerships with Macy's and Designer Brands.
Lids president Britten Maughan said: "London is a natural fit for us.
"The enthusiasm for both American sports and streetwear aligns with our on-field and fashion-focused hat and jersey assortment.
"We are excited to bring our brands and products to market."
The company said that its London stores are expected to create several jobs in the local area.