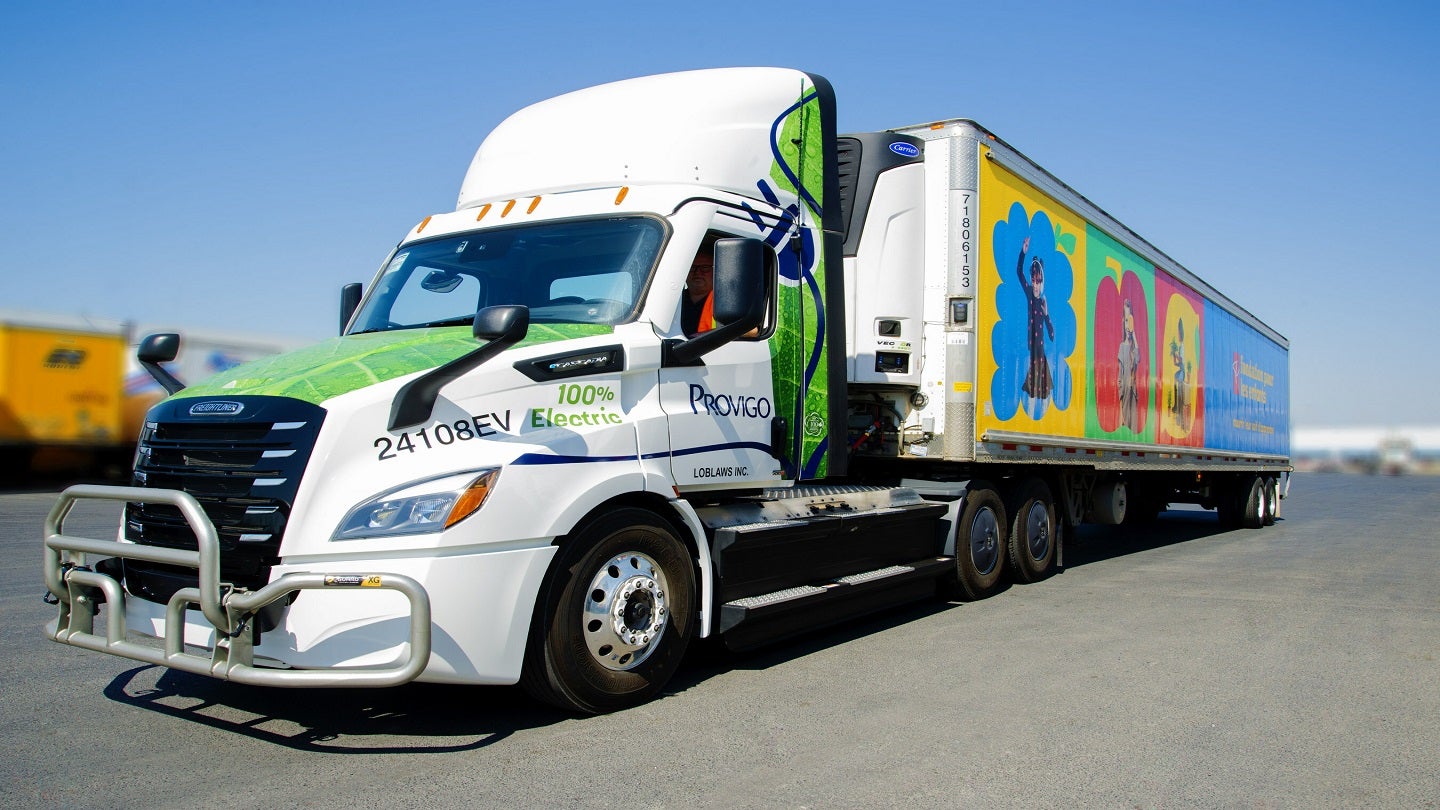 Canada-based food and pharmacy retailer Loblaw has bolstered its net-zero carbon emissions strategy with the deployment of its first heavy-duty, fully electric transport truck.
Manufactured by Daimler Truck North America (DTNA), the battery-electric Freightliner eCascadia is the first series production eCascadia delivered to a Canadian customer.
The vehicle is one of five trucks Loblaw plans to roll out in the coming months.
It will operate between the retailer's distribution centre in Boucherville, Quebec, and its stores in the Greater Montreal Area, including Provigo, Provigo Le Marche and Maxi.
According to Loblaw, the trucks are ideal for short-haul routes and can carry up to 82,000lb for a distance of 370km at one charge.
DTNA sales and marketing senior vice-president David Carson said: "Retailers like Loblaw have big ambitions to decarbonise the thousands of trucks that transport the food Canadians grow and consume every day; this first battery electric Cascadia in the hand of a Canadian customer marks an important milestone to move the industry toward a more sustainable, safe and efficient future.
"The vision we share and leadership in our respective industries is helping to pave the way to carbon neutrality and an unprecedented transformation."
The deployment of electric trucks is part of Loblaw's larger projects to achieve net-zero carbon emissions.
In 2017, the retailer committed to decarbonising its fleet of more than 160 company-owned day-cab trucks by 2030.
National Transport Operations vice-president Brian Springer said: "It's no secret that vehicle decarbonisation is central to lowering greenhouse gas emissions and we want to lead in the adoption of this new technology."
Loblaw recently revealed plans to invest more than $2bn ($1.5bn) in 2023 to expand Canadian business.