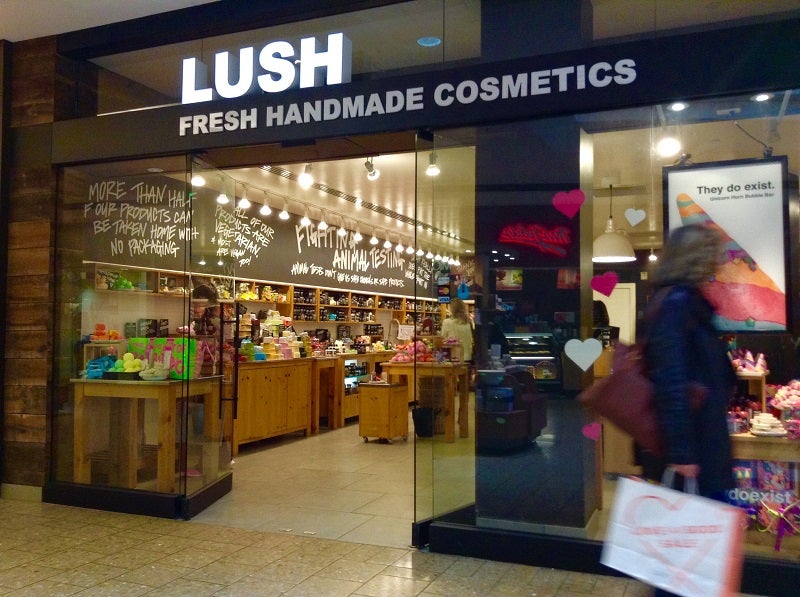 UK cosmetics retailer Lush has highlighted successful results in its financial year figures for 2017/18, following its strong push towards store investments and product innovations.
Income for the retailer rose by £26.7m to £524.5m. Its UK like-for-like sales grew by 8.2%, while its overall UK revenue slowed down compared to last year.
Lush's UK online penetration rose to 12.6%, surpassing that of the overall UK health and beauty market, which stood at 9.3% in 2018. However sales fell in the US, its largest retail market, by 7.5%.
GlobalData retail analyst Emily Salter said: "The retailer relocated 11 UK stores to larger units during the period which saw an impressive 39.6% increase in like-for-likes, indicating Lush's dedication to the offline channel as it seeks to further differentiate its unique offering and drive customers to stores. Online sales growth has also experienced a slowdown, but the recent launch of a new global website should bolster conversion and increase basket sizes through a more attractive, aspirational and easy to navigate site.
"Although continued online growth will be important to Lush as Amazon fights for share of the health and beauty market, it is continuing to invest in its stores to create unique, attractive environments, services and products. Due to its strong service, the retailer is more able to rely on its stores for growth than other health and beauty retailers, given that it is difficult to replicate this staff knowledge and interaction online.
"The retailer opened its fourth global Naked store in Manchester at the start of 2019 selling packaging-free products including innovative items such as solid foundation, allowing Lush to enhance its reputation and gain popularity as more consumers seek to reduce their plastic consumption."
Salter continued: "Additionally, the retailer's relocation in Liverpool to its biggest store globally, includes a permanent florist, hair salon, spa area and perfume library – transforming the store into a destination and enabling it to tempt shoppers away from online pure-plays that are increasingly selling a number of vegan and ethical beauty products.
"The increased costs that Lush faced in FY2017/18 were attributed to a number of factors including higher staff costs as UK staff members were paid at least the Living Wage Foundation's 'real' living wage, and the rising costs of natural ingredients.
"The retailer must work to return to profitability in its current financial year, although increased ingredient costs will be hard to navigate due to Lush's focus on natural and good quality ingredients. Due to its strong brand identity and reputation, the retailer is in a good position to capitalise upon the growing demand for vegan, ethical and packaging-free beauty items, and should continue to invest in stores and staff to drive footfall and increase conversion rates," concluded Salter.
Lush director Mark Constantine said: "The decrease in profit reported in these accounts has prompted several initiatives to improve the 'productivity' of our costs. These include focus groups looking at cost of goods (including a full review of retail pricing), staff costs in the larger stores and the progression of system efficiencies, design and property costs, and a full review of our sales and administration cost base. We expect to see some benefit from these initiatives in the next financial year."