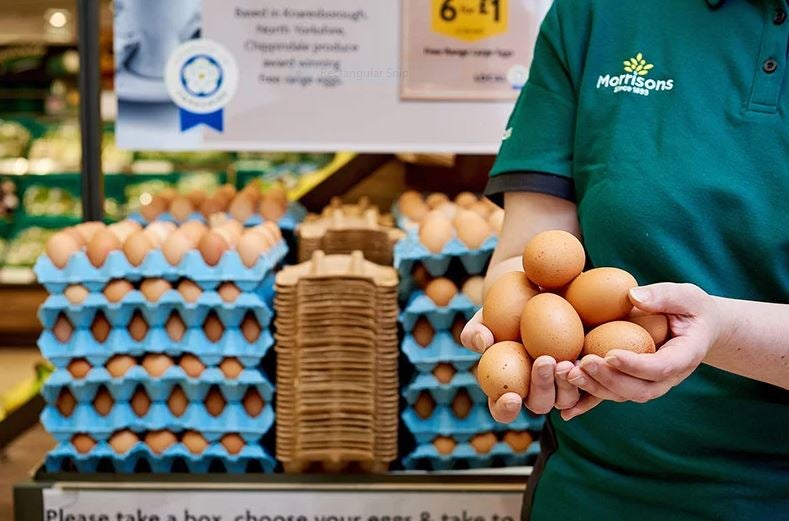 Morrisons has become the first major supermarket in the UK to offer only free-range eggs.
All eggs sold by the supermarket will come from hens that have outdoor access for at least eight hours each day. In addition, the chickens must have wide spaces for scratching and dust bathing.
The retailer would require 334,000 hens to lay 107 million eggs in 52 weeks.
Morrisons had first pledged to get rid of caged eggs by 2025 following a 2016 consumer campaign led by teenager Lucy Gavaghan.
The chain is able to achieve the commitment five years ahead of schedule after increasing the free-range farmers serving Morrisons' egg packing business.
So far, none of UK's biggest supermarkets, including Tesco, Sainsbury's, ASDA, Morrisons, Aldi and Lidl, have gone free-range only.
Compassion in World Farming of Food Business director Dr Tracey Jones said: "It's great to see Morrisons achieving their commitment to being 100% free-range on shell eggs ahead of their 2022 target.
"Momentum on ending the use of cages for laying hens is growing and Morrisons are leading the way. Importantly, they also have a 2025 cage-free commitment on the eggs that go into processed and ingredient foods."
The retailer sells more than ten million eggs a week, two million of which were from caged hens.
Additionally, Morrisons is also reducing the price of a pack of six free-range eggs from 80p to 75p to make them even more affordable.
In November 2019, Morrisons became the first supermarket to start a nationwide scheme to sell food that has gone past its 'best before' date via the Too Good to Go app.