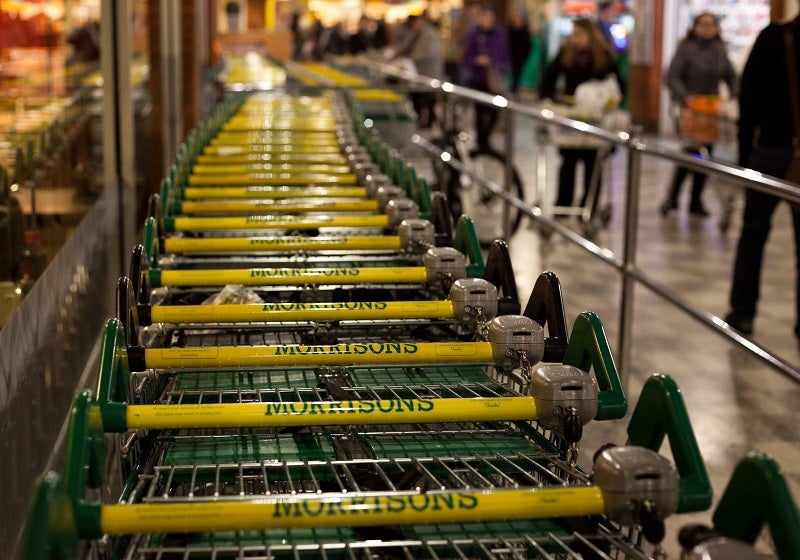 UK supermarket chain Morrisons has reported a 2.3% rise in like-for-like group sales excluding fuel in its first quarter (Q1) financial year (FY) 2019/20 results.
The retailer said it achieved the 'positive' result despite political and economic uncertainty continuing to impact consumer confidence.
Morrisons chief executive David Potts said: "We are improving the shopping trip and becoming more competitive for customers, and are pleased with another quarter of positive like-for-like sales. We will continue this important work, including on those favourite items we know our customers want to buy at Morrisons."
Morrisons' retail sales contribution to its Q1 2019/20 like-for-likes rose by just 0.2%, while its wholesale contribution rose by 2.1%. The group's like-for-like sales including fuel grew by 2.7%.
GlobalData retail analyst Thomas Brereton said: ''As a whole, Morrisons will feel that its Q1 results have been another good step towards fixing, rebuilding and growing the company, with topline sales, both on an actual and like-for-like basis, growing above 2% and reaching an impressive 14 consecutive quarters of positive like-for-like growth.
"However, its retail division, contributing a paltry 0.2% to the overall 2.3% like-for-like figure, will no doubt come as a slight disappointment to Morrisons. Furthermore, its upcoming Q2 will be working against a very difficult comparison (with no World Cup to boost alcohol and barbeque foods), and so this quarter is potentially the last in a remarkable run of consecutive quarters of like-for-like growth."
Ocado fulfilment centre revocation to impact Morrisons online retail
Brereton continued: "But possibly the more damning piece of news this morning for Morrisons has come from the other end of the country, with its online associate Ocado announcing its temporary – until February 2021 – revocation of Morrisons' share of capacity at Ocado's Erith-based fulfilment centre and a 'mutual relaxation' of exclusivity provisions. While the reclaiming of fulfilment centre space is an intuitive step for Ocado following its warehouse fire earlier on in the year reducing its own capacity, it is certainly a blow to Morrisons' attempts to expand its online presence into the south of England.
"And with regards to the exclusivity trackback, this is clearly a drive from Ocado's side; while Ocado has developed its Solutions business into an imposing international operator, its exclusivity agreement with Morrisons had hindered itself from developing further UK partnerships – now resolved, it allows Ocado greater scope to reach out to other grocers struggling with the online problem.
"However, from Morrisons' point of view, this is more than an annoyance – Morrisons' online penetration sits well below the market (4.1% vs an overall market penetration of 9.2%), and it will be disappointing for Morrisons to be snubbed in this fast-growing channel of the market."
Morrisons retail could see growth with convenience network
Brereton added: "On the other hand, this leaves Morrisons greater ability to focus on its newly developed convenience network. The Morrisons Daily network has, quite quietly, built up to over 120 stores, following the conversion of a handful of Mccoll's and MPK Garages locations to the new fascia. And despite the currently highly competitive nature of the UK convenience market, with most of the other major players looking to expand their own convenience networks, the ongoing shift in consumer behaviour to higher frequency, lower basket shopping means Morrisons remains well positioned within the physical food retail space."
Potts commented on the Erith customer fulfilment centre (CFC) fire, saying: "We are pleased to be helping our partner in times of need after the recent fire. We will keep growing Morrisons.com for our customers and save some cost, returning to the Erith CFC when it is more mature. Our new agreement allows us to have more than one digital partner, and opens the way for significant potential opportunities and partnerships in this important growth area for Morrisons."