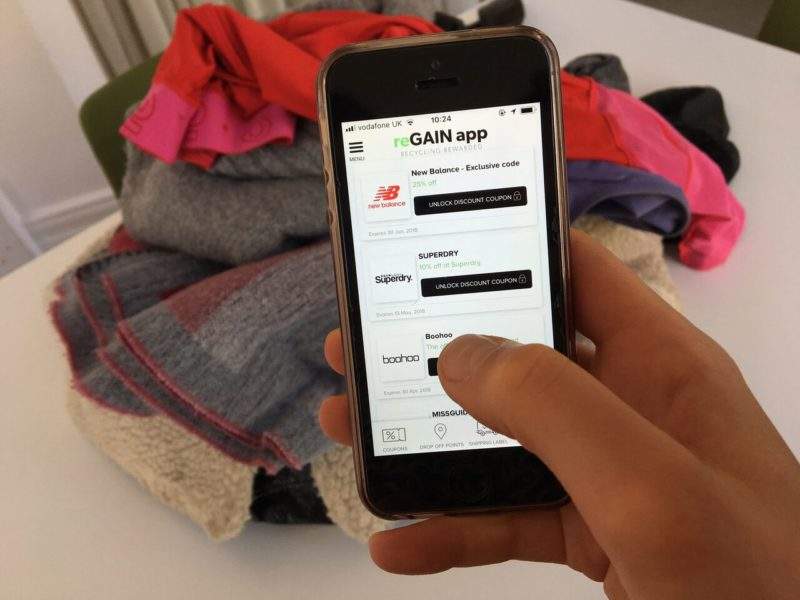 The first app for recycling unwanted clothes has been launched in the UK. reGAIN issues discount vouchers in return for donated items of clothing, which shoppers will be able to use across the country's largest retailers.
The news comes as research claims 73% of consumers no longer wear up to half of the clothing they own.  A study of over 2,200 UK adults also found that more than 10% of people throw their clothes away rather than recycling or donating them to charity, which rises to 27% in London.
According to reGAIN's research, 300,000 tonnes of clothing ends up in UK landfill every year, something the app will attempt to change.
Instead of letting clothing go to a landfill, the app encourages people to use its service to drop off unwanted clothing in return for discount vouchers for retailers, including Superdry, Asics, Boohoo and Missguided. Reportedly, the discounts will offer a minimum of 10% off, and can even range between 20-25%.
According to the survey, 67% of people would recycle more if rewarded for it, and 66% would do it if it was free and easy. Around 56% would recycle if they were aware of the environmental damage of sending clothes to landfill.
Founder of Yellow Octopus who developed the app, Jack Ostrowski claims they are 'realists, not idealists'.
He said: "We know that we can't stop people from buying clothes, but we can incentivize them to change their habits and divert hundreds of tonnes of clothing from UK landfill. Our long-term goal is a world in which clothes never become waste.
"The reGAIN app turns commercial sustainability into action and provides a modern solution for fast fashion lovers by rewarding sustainable behaviour. Stopping clothes from going to landfill is the first step towards a circular economy."
"With 49% of people we surveyed planning to do a spring clean of unwanted clothing this month, we hope many of them will consider using reGAIN app to prevent these items from becoming waste."
In order to reduce the carbon footprint, the app only accepts one drop off per customer each week, with a minimum of 10 items per drop off.
The collections are free of charge and can be made at more than 20,000 drop off points across the UK.
The app is supported by the digital takeback scheme, which is designed to drive the fashion industry towards becoming a more circular economy.
Clothing collected by the app will be reused, recycled, upcycled or used as combustibles for energy production.
The launch of the app follows a recent Ellen MacArthur Foundation report, which found that the fashion industry is the third largest polluter on the planet.
A number of retailers, including H&M and Zara, already have their own clothing recycling schemes and encourage customers to recycle unwanted clothes, and educate them about the circular economy on a small scale.