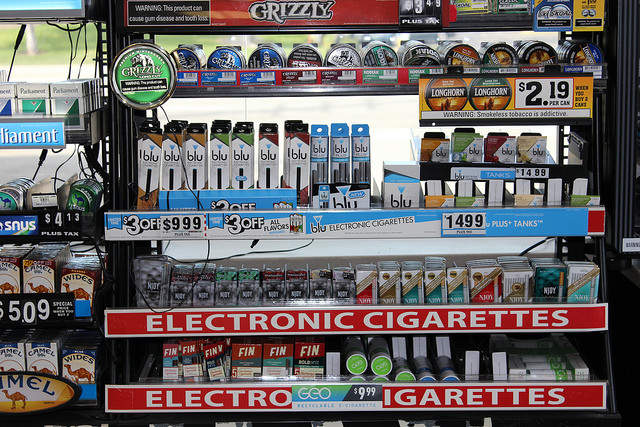 Retailers across New York City are beginning to face the first of many new laws designed to make buying tobacco products more difficult in order to cut down smoking rates.
Max Bookman, a lawyer who represents the New York City Newsstand Operators association, says the rules which will be rolled out over the course of the year, involve a 'barrage of changes' in the licences necessary for retailers.
Businesses with recently expired retail cigarette dealer licences face a month-end deadline to submit renewal applications that now come with a fee of $200, up from $110.
Newly introduced neighbourhood limits on the number of tobacco dealers mean that if a business fails to acquire permission to sell tobacco on time, it will have to wait for a spot to open up in the area.
As of 24 February, no applications will be accepted for new cigarette a retail dealer, which effectively shuts out anyone who wants to sell tobacco in the future.
Prior to the changes, the city received 569 new applications for retail dealer licences between October and December 2017.
About 335 of those applications were filed during the same period in 2016, according to a Spokesperson for the city's Department of Consumer Affairs.
The new regulations were signed into law last August by New York City Mayor Bill de Blasio. They are designed to cut in half the number of tobacco retail licences across the city. The state audit revealed that the amount of retailers holding the licences is already decreasing; currently there are about 8,300 licensed retailers, down from 12,300 15 years ago.
As well as a tobacco licence, retailers will also need a separate licence for electronic cigarettes, with applications due by 25 April.
In order to obtain the licence, the business will need to prove it was selling electronic cigarettes on or before 28 August.
As of 23 August, businesses not holding a licence will be forbidden from selling electronic cigarettes. Pharmacies and businesses containing pharmacies will also not be able to sell electronic cigarettes.
A spokesperson for the city's Department of Consumer Affairs revealed that 539 applications have been submitted for the cigarette dealer licence.
City targets 900,000 smokers
Previously, city health officials have said there are roughly 900,000 smokers in the city, including 15,000 young people.
The city's goal is to reduce the number of smokers in the city by 160,000 over three years, following research that tobacco kills 12,000 New Yorkers annually.
De Blasio said: "Even though tobacco is a leading cause of premature death across the country, Big Tobacco will stop at nothing to hook people on these deadly products,"
He added:  "We are sending a loud and clear message that we will not let their greed kill any more New Yorkers without a fight. These new laws will not only help reduce the number of smokers in our City, but also save lives."
Sonia Angell, deputy health commissioner, said: "Raising the price of tobacco products and reducing tobacco retail density will result in fewer smokers over time,"
Some retailers and trade groups, however, say the city's policies will also reduce their income over time.
According to Jim Calvin, president of the New York Association of Convenience Stores, an Albany-based trade group, tobacco sales can account for 5% to 20% of gross sales.
Calvin said: "If I want to sell my bodega, but the buyer isn't guaranteed that he or she will be able to sell the same tobacco products I was selling, then my business is worth less to that buyer,"
He added: "In a lot of cases, this is the business my family and I have spent the better part of a lifetime building."
Tobacco retailer licences can't be transferred, according to a spokeswoman for the city's Department of Consumer Affairs.
However, a new applicant could qualify for an exemption to a neighbourhood licence cap if the previous owner was in good standing and the exemption is filed within 30 days of purchase of the business.
The neighbourhood caps takes effect this month and is expected to slowly reduce the number of cigarette retailers either through means of attrition, violations or other measures.
As well as limiting the sale of cigarettes, the price of each pack will also increase to at least $13 on 1st June 2018, which is the highest price for the nation. Currently New York has a minimum price of $10.50 per pack.
Calvin said: "These measures will destroy the business investment of retailers who have been leading the effort to prevent youth access to tobacco products, and the result will be lost revenue, lost jobs and an increasing number of sales in unregulated and illegal settings."