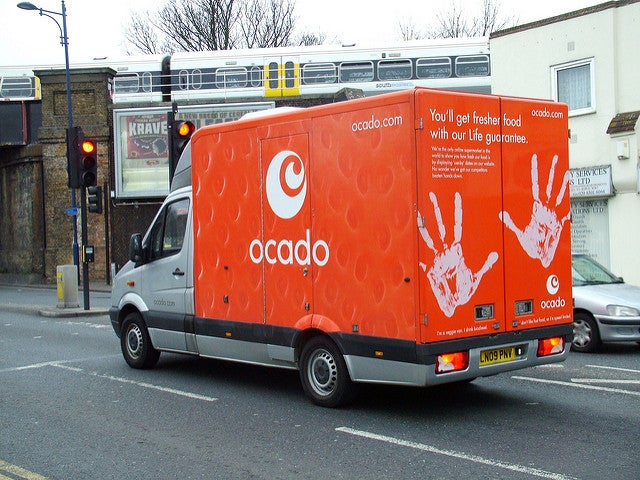 Ocado has reported a 12% increase to £390.70m in sales for the 13-week period ending 2 December compared to 11.5% increase recorded in the previous year.
While the online retailer saw an increase in sales, the average online order value decreased by 1% to £104.91 during the period. However, the average number of orders per week has increased by 13.1% to 320,000.
Ocado said that by the end of the quarter, it had cash and cash equivalents of £411m and external borrowings of £286m.
According to the report, Ocado's new robotic distribution centres in Andover and Erith continue to perform well, with the Erith facility now processing over 30,000 orders per week.
Ocado's CEO Tim Steiner said: "Our unrelenting focus on delivering consistent high levels of service and value to our customers in the UK has produced another quarter of satisfying growth.
"The new capacity that we have brought on stream in CFCs 3 and 4 in Andover and Erith has enabled us to again report double digit growth in new customer acquisition. Both facilities are performing well and Erith continues to ramp up in line with our expectations.
"Although in many respects 2018 has been a transformative year for Ocado, the story has only just begun. We look forward to the coming year and continuing to turn our substantial opportunities into sustainable value for all our stakeholders".
GlobalData's retail analyst Thomas Brereton said: "Ocado is once again proving resilient to the challenges facing the more premium grocers, as a jump in average orders per week to 320,000 helped retail revenue rise to £390.7m for the quarter. Although Ocado points towards its third (Andover) and fourth (Erith) UK customer fulfilment centres (CFCs) supporting capacity, investors will be disappointed that not more information has been given about the timeline and profitability impact of the 20 proposed US CFCs as part of Ocado's deal with Kroger.
"Ocado's self-proclaimed title of 'prime catalyst' for UK food online growth is difficult to argue with. Its full-year growth, which sits at 12.0%, lies 2.3ppts ahead of the 9.7% growth for the overall online food market in 2018, and it is set to benefit greatly at the start of 2019 as more consumers look to shop online to avoid problems of instore availability that the major players will likely face in the worryingly possible scenario of a hard Brexit.
"But for the meantime, Ocado will look to continue increasing its customer base, and make sure that its operations continue smoothly over the Christmas period. It is doing its best to garner more customers, currently offering free delivery for a year and £30 off first shop for newcomers.
According to Brereton, Ocado is likely to focus on its non-retail 'solutions' division in 2019, seeking out other international partnerships, while ensuring that the pilot US CFCs are a success.
Meanwhile, he says that Ocado management team will be hoping that the UK retail division can continue similar organic growth to 2018.