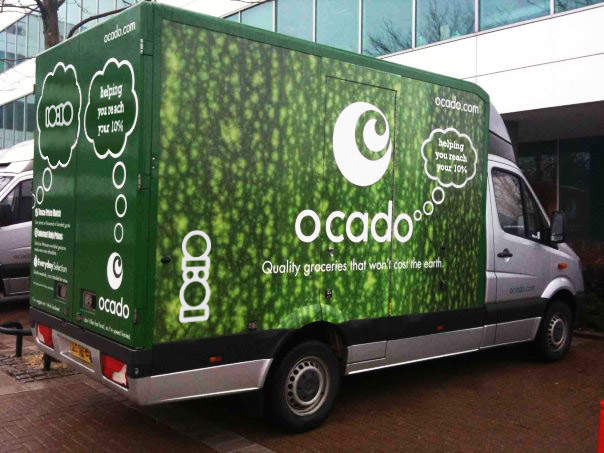 UK-headquartered online retailer Ocado saw shares jump by 51% hitting a record high after it announced a partnership with US grocery giant Kroger on Thursday morning.
Ocado was founded in 2000 as an online-only supermarket, but in recent years has sought to position itself as a technology provider to other supermarkets. The company's proprietary warehouse technology uses robotics and automation to drive high levels of efficiency when packing and shipping orders.
As part of the new partnership, Kroger will use Ocado's 'Smart Platform' technology to develop three new automated warehouses across the US this year. Both companies plan to identify up to 20 over the first three years of the partnership.
If Kroger fails to commit to the target capacity, it has agreed to pay compensation to Ocado.
Kroger will pay undisclosed monthly exclusivity and consultancy fees, which will offset the total cost of the deal that has yet to be agreed. Kroger is also buying a 5% stake in Ocado for £183m under the terms of the deal.
Ocado has said that any discussion about new partnerships with other US-based companies would stop as a result of this deal.
Ocado's CEO Tim Steiner said: "Our success as a retailer shows that we can offer customers unrivalled choice, quality and convenience, efficiently and profitably. The opportunity to partner with Kroger to transform the way in which US customers buy grocery represents a huge opportunity to redefine the grocery experience of Kroger's customers and create value for the stakeholders of both Kroger and Ocado."
Kroger chairman and CEO Rodney McMullan said: "We see Ocado as an innovative, exciting and transformative partnership. We are actively creating a seamless digital experience for our customers. Our partnership with Ocado will speed up our efforts to redefine the food and grocery customer experience – creating value for customers and shareholders alike."
Kroger is the second-largest grocery business in the US, with 2,800 stores and sales of $122bn last year. Competition from Amazon and discounters saw its share price fall by over 40% last year to a four-year low following which Kroger announced a $9bn strategy 'Restock Kroger' aimed at modernising the company with technology.
Hargreaves Lansdown senior analyst Laith Khalaf said: "As one of the most shorted stocks in the UK stock market, this deal will be a poke in the eye for the hedge funds who have bet against Ocado because of its eye-watering valuation.
"However its share price is looking forward to future earnings based on licensing out its online delivery technology, rather than the revenues it's currently making from food retail. The short sellers were hoping Ocado wouldn't deliver on its international expansion plans. That position now looks like a badly busted flush."
The Kroger deal is the latest in a string of international partnerships for Ocado in recent months. At the start of the month, Ocado announced a partnership with Swedish retailer ICA and Canada's Sobey's in January.