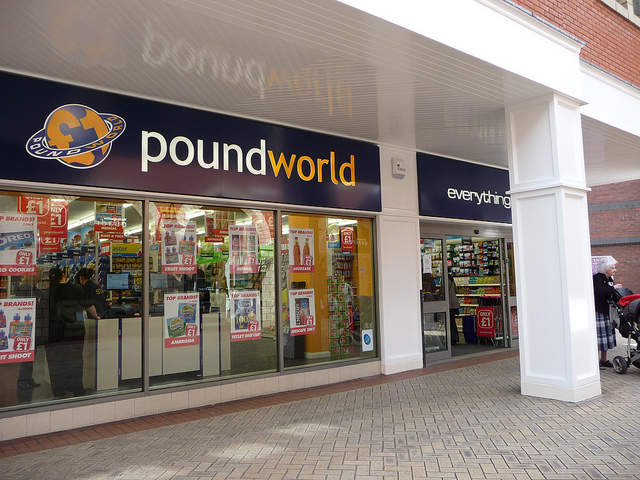 Discount retailer Poundworld has joined a list of struggling retailers, announcing plans to close 100 of its 355 stores, putting up to 1,500 jobs at risk as it considers Company Voluntary Arrangement (CVA).
Founded in 2004, Poundworld, along with many other retailers, has been hit by falling consumer confidence, high rent bills, business rates, as well as a weaker pound.
The company, which is owned by private equity firm TPG Capital, is expected to announce the terms of the CVA next month after landlords vote on the proposal.
The company said it would seek to redeploy as many of the affected staff as possible, but hundreds of jobs would reportedly be lost. Poundworld currently employs about 5,500 people.
As well as closing stores around 28% of its stores, Poundworld would reportedly also try to get agreement from landlords to reduce rents.
As Poundworld imports much of its stock, it has been affected by the fall in the value of the pound, which contributed to the retailer having to pay higher prices for its imports.
If Poundworld proceeds with CVA, which would be overseen by Deloitte, it would be the second TPG Capital company to resort to this restructuring option. Restaurant chain Prezzo recently won approval from its creditors to shut 94 of its 300 stores. The CVA proposal was backed by 88% of the creditors.
The news about Poundworld follows discussions with TPG about a capital injection of £40m into the business. The investment was a necessary step in the transformation of a family-run business into a nationwide retailer with the necessary infrastructure to support future growth.
The move to pursue CVA suggests the Poundworld's finances are in a poor state. It was announced that Poundworld's profits have decreased to £17.1m pre-tax for the year to 31 March.
Retail Economics chief executive Richard Lim said the Poundworld news is a sign of trouble and 'signals just how much distress bricks and mortar retailers are under'
He added: "The toxic mix of rising costs, softer consumer demand and the acceleration of seismic structural shifts are pushing many business models to the breaking point.
"Stuck with too many stores, inflexible leases and spiralling operating costs, the business is in desperate need of restructuring."
Over the recent months, CVA has become popular among retailers attempting to offload underperforming stores to reduce rents and avoid administration.
Carpetright's creditors and landlords recently approved the company's CVA plan for 80 closures, and New Look has also chosen to go through a CVA. House of Fraser said it was also considering CVA as an option to restructure the business.
In February Toys R Us went into administration, resulting in the closure of 100 stores and the loss of more than 3,000 jobs. Maplin, an electronics retailer, has also collapsed with 2,500 jobs lost in the recent weeks.