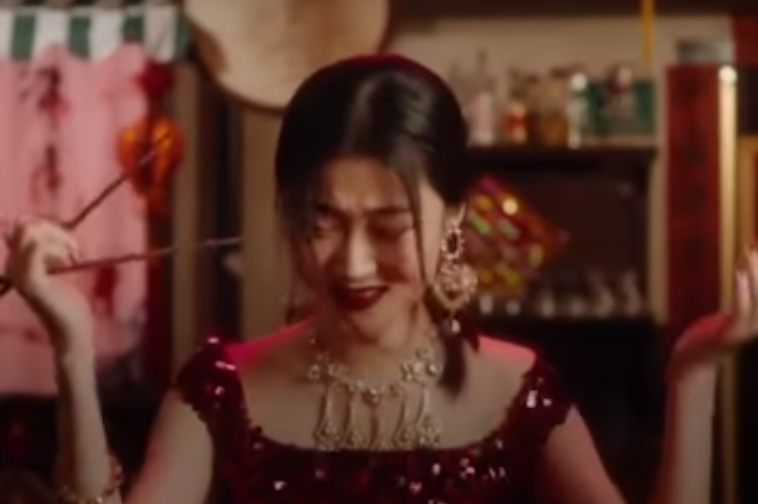 The video promoting Dolce & Gabbana's latest campaign "DG Loves China" and its planned show in Shanghai has been accused of racism for featuring an Asian model attempting to eat Italian food using chopsticks.
The video features a Chinese woman dressed in Dolce & Gabbana sequin dress, struggling to eat pizza, canneloni and spaghetti using chopsticks.
Dolce & Gabbana faced criticism on social media due to the narrator comments.
A male narrator can be heard saying to the women: "It's still way to big for you, isn't it?", as the woman struggles to pick up the cannelloni with her chopsticks.
In addition, Stefano Gabbana was also accused of posting racist messages on his Instagram account which forced the brand to cancel its Shanghai fashion show.
However, the brand said that the Instagram account of Gabbana had been hacked.
Dolce & Gabbana said in a statement on Instagram: "We are very sorry for any distress caused by these unauthorised posts.
"We have nothing but respect for China and the people of China."
Meanwhile, on his own account, Gabbana posted an image of the offensive comments with a 'Not Me' message written in red letters across the picture.
He captioned the picture saying: "I love China and the Chinese culture, I'm so sorry for what happened."
The fashion brand said its legal offices are currently investigating the incidents.
The company said in a statement referring to the cancelled fashion show: "What happened today was very unfortunate not only for us, but also for all the people who worked day and night to bring this event to life."
In addition to the cancelled runway show, Chinese e-commerce sites have also removed Dolce & Gabbana products due to the growing backlash against its advertising campaign.
China's Kaola, an e-commerce platform, confirmed it had removed Dolce & Gabbana products, while luxury retailer SECOO removed the brand's listings on 21 November.
In addition, Yoox Net-A-Porter , the Italian online fashion retailer, said the Dolce & Gabbana label was no longer available on its Chinese platforms.
According to Reuters, pages previously linked to the brand on Alibaba and JD.com platforms were no longer available.
This is not the first time Dolce & Gabbana has faced a backlash from Chinese consumers.
Last year, the brand launched a campaign focused on the capital city Beijing featuring migrants and sanitation workers, as well as the city's underdeveloped parts, which was removed after complaints and criticism.