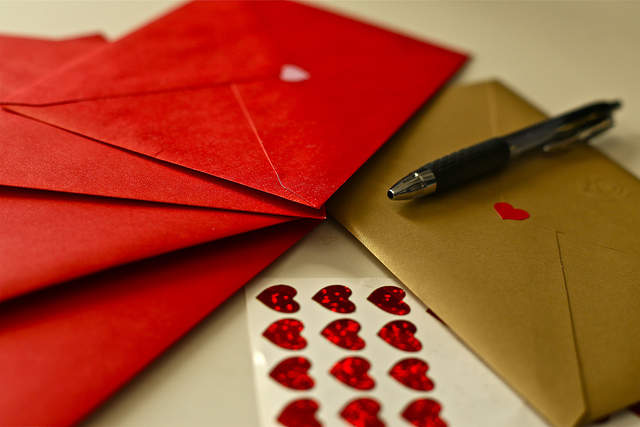 Sainsbury's has been exposed for selling a Valentine's Day card for a husband at 50p more than an almost identical card for a wife.
This has been discovered by a shopper who took to Twitter to ask the retailer: "What's going on here?" accompanied by a picture of the cards.
Julie Marlow, from Cornwall, tweeted: "Why do I have to pay 50p more for a card for my husband than he has to spend for virtually the same card."
The cards are have a near-identical design featuring dogs and a heart, but the one sold for wives is priced at £2 and the one for husbands is £2.50
Sainsbury's has now apologised saying both cards are now priced at £2 each.
A Sainsbury's Spokesperson said: "We appreciate this error being brought to our attention. Both designs are now available in store for £2."
The cards were spotted in Stoke-on-Trent but are believed to have been sold across the West Midlands. Dr Panos Sousounis, a lecturer in economics and finance at Keele University, believes the pricing may be due to assumptions about women's shopping habits.
He said: "Retailers think that women are more willing to spend more money on a Valentine's card so they price it a little bit higher."
Retailers have been known to price similar products differently depending on the gender of the intended consumer, which is commonly known as the 'pink tax'.
Everything from razors to toys have been found to be priced more when labelled 'for ladies'.  Consumers are getting smarter about spotting these gendered differences, and some companies like Cards Against Humanity—which produced an overpriced pink parody 'for her' version of its game—are even calling it out marketing campaigns.
Valentine's Day is not a cheap holiday; last year people spent an estimated $18.2 billion on the holiday in the US according to a report from USA Today. This year the National Retail Federation estimates people will spend a record $19.6 billion. That averages out to be more than $147 per person.
Greeting cards are second biggest spend after sweets, with 46% of Valentine's Day shoppers planning on getting a card for someone special this year. The NRF reports that over 190 million greeting cards were exchanged last year, and this year it predicts a spend of $894 million on Valentine's Day cards alone.