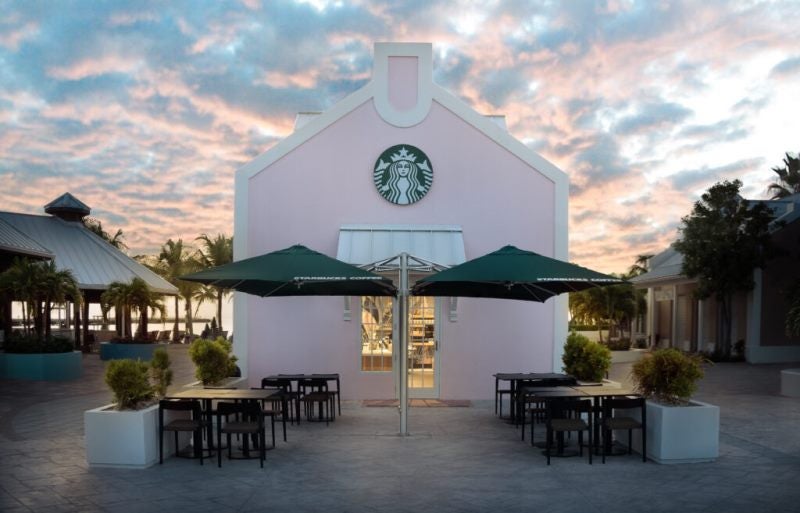 Global coffeehouse chain Starbucks has partnered with Caribbean Coffee Traders to open its first store on the Grand Turk Cruise Port in Grand Turk, Turks & Caicos.
The new store marks the brand's entry into the islands of Turks & Caicos, making it the 81st market for the company globally and 20th market in Latin America and the Caribbean.
Starbucks Caribbean markets operations director Tim Grever said: "We are delighted to open our first store in the tropical and exotic island of Turks and Caicos.
"We are confident that along with Caribbean Coffee Traders, we will deliver a unique an exceptional coffee experience for Turks and Caicos Islanders, one that truly showcases our deep passion for some of the best coffees from around the world, while honouring the local culture."
The store features a new cafe design designed to fit the island with pink exterior, and an indoor palette.
It offers a range of menu choices, including Starbucks signature beverages such as the 100% Arabica coffee, and various food items.
Caribbean Coffee Traders is a consortium headed by the restaurant management and franchise operator Margaritaville Caribbean Group.
The company received exclusive rights to operate Starbucks stores in Jamaica in 2017, and in the Cayman Islands in August last year.
Margaritaville Caribbean Group chairman Ian Dear said: "This milestone demonstrates our commitment and enthusiasm for the region and our optimism for the opportunities ahead. We are excited to become the island's hub for coffee, connection and community."
In July, the American coffeehouse chain opened its first Starbucks Now store in Beijing, China.
Starbucks Coffee also signed an agreement with Coffee Concepts Thailand to license its retail business in the country during May this year.