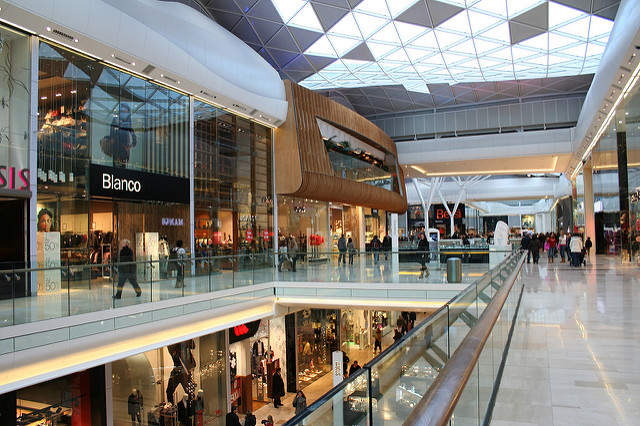 A number of new studies predict a tough year of deeper cost-cutting, more store closures and further job losses for some of Britain's best-known retailers.
Research shows that the high-street is faced with deep-seated problems which show no sign of fading soon.
Fashion retailers are most vulnerable to these problems, with almost one in five showing early warning signs of becoming insolvent according to professional services firm Moore Stephens.
Out of 35,078 fashion retailers the firm analysed, 6,580 showed early signs of financial distress, including large fall in revenue and poor payment history.
Further research conducted by British Retail Consortium has found that the number of people visiting shops decreased across the UK in January.
Currently, the costs of goods in stores look set to rise further at a time when competition from online and discount rivals is increasing.
Thousands of jobs have already been cut by big retailers since the beginning of the year, with Debenhams being the latest high-street name to announce job cuts.
The two-century-old department store followed plans announced by Marks & Spencer, Tesco, Sainsbury's, Asda, Morrisons and B&Q to shed staff.
A number of retailers have fallen into administration including Warren Evans, while New Look and Mothercare made announcements of its disappointing stock market figures earlier this year.
House of Fraser has also seen its share of problem this year, and is currently in negotiations to cut its store rents.
Many of the high street's woes started at the end of last year, according to Richard Lim, chief executive of Retail Economics, a consultancy firm that specialises in the sector. A bad end to 2017 has forced firms to start 2018 with cost-cutting being a priority.
The number of job cuts in retail was already increasing in the third quarter of last year according to the BRC.
"Retailers have been hit by spiralling costs, with increases to the national living wage, hikes to business rates, and higher inflation," says Lim.
While increased minimum wage will see 40% of retail workers welcoming a pay rise this year, shoppers are seeing their salaries grow more slowly than inflation.
This caused retailers to be reluctant to increase product prices for fear of losing customers.
According to research from Retail Economics and NatWest, margins fell last year at their fastest rate since the financial crisis.
Lim said some high-street stores will be more resilient to tough conditions than others.
Stores that can offer customers unique expertise and experience that can't be found online will be able to compete with the online and discount market.
According to Lim, Footasylum and Mountain Warehouse are a good examples of this.
According to Lim, retailers using 'legacy business models' like Debenhams have too many shops to compete with the likes of Amazon, meaning more branches could face closure this year.
Consumers have been increasingly taking out debt to fund purchases until now, but low interest rates since the financial crisis are set to begin to come to an end.
Bank of England Deputy Governor Ben Broadbent said last week that a doubling of the benchmark rate to 1% this year would not be 'a great shock'.
Slow wage growth caused shoppers to be careful about their optional non-essential spending according to Mike Watkins, head of retailer insight at Nielsen.
"This pressure on spend is likely to continue for retailers across the board," he said.
Online retail giant Amazon has also announced hundreds of job cuts in its Seattle headquarters and elsewhere. The cuts are mostly in the company's consumer-retail division. The exact number has not been announced but according to the report, it is expected to be 'several hundred' at the company's Seattle headquarters and 'hundreds more' elsewhere.
Previously, Amazon said it would employ 50,000 people at its headquarters.