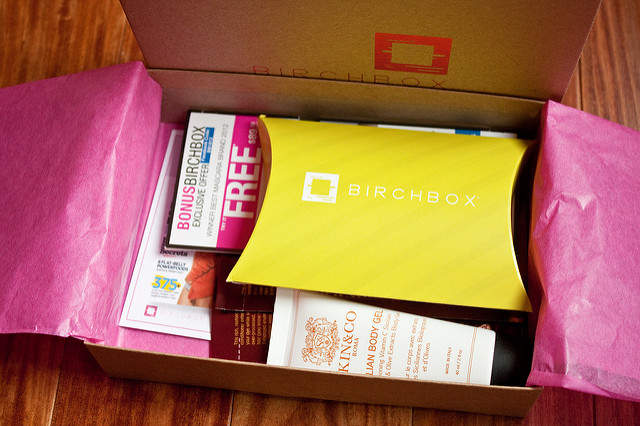 Traditional US retailers such as Target and Walmart are trying out the trend of subscription boxes by rolling out their own subscription services for make-up, kids clothing and athletic apparel.
Established brands like Gap and Under Armor are building on the success of names like Birchbox, Dollar Shave Club, Blue Apron and Trunk Club in a hope to create their own version to attract customers.
According to a 2017 Hitwise report, there are around 5.7 million customers for the subscription box market.
Subscription boxes can offer retailers an insight into what items customers are responding to well or what inventory should be phased out, and enable them to forecast revenue.
Standalone businesses like Blue Apron for example, have struggled to balance sales against the steep marketing costs required to keep membership up. But for established businesses like Target or Walmart, the boxes are only a slice of their primary businesses.
According to John Fetto, senior analyst at digital marketing insights firm Hitwise, the future of the subscription box market is likely to see more boxes offered by traditional retailers.
He said: "That's what we're seeing with the new Target box, the Sephora Play box, etc."
He added: "Even the traditional pure-play companies will need to focus on generating more business through replenishment in order to account for the constant churn of subscribers and the high costs of acquiring new customers."
Target, which currently offers two subscription boxes, Beauty Box and Baby Box, will be introducing a new box called Cat & Jack Outfit box including clothing from its own kids' line. The box will include six to seven Cat & Jack items with every shipment for $40, available quarterly or as a one-off order.
Walmart's Beauty Box, which is priced at $5, ships four times per year. The box contains name brand beauty products such as Maybelline eyeliner or TRESemmé hair spray. Unlike the Birchbox beauty box, it does not contain higher-end products but more essential beauty routine items.
New York & Co. is also trying out a subscription service, but unlike Walmart's and Target's offerings the content is not meant to be kept forever. For $50 shoppers receive three garments, which they send back when they're ready for a new box.
Similarly to New York & Co. Ascena Retail Group's Ann Taylor has a subscription service known as Infinite Style that sends out garments to shoppers for $95 a month, and the shoppers send the clothes back when they're ready for the next box.
Both subscriptions allow customers to purchase the items they would like to keep.
Gap has introduced a Gap's Baby Outfit Box which contains six pieces of clothing for growing babies. The items are shipped to shoppers' homes every three months for $70. Similarly to Target's Cat & Jack Outfit Box, Gap's version is suited to children who quickly outgrow their clothes.
As well as Baby Outfit Box, Gap has launched Old Navy box, which is a quarterly subscription for kids aged five to 12. Retailing at $70 per box, each box contains six items of clothes and customers are allowed to pick the child's size and gender and then a style of the garments.
J.C. Penney is the first department store to try out the subscription service. In partnership with Bombfell, an online personal stylist for men, J.C. Penney has created boxes that cater to big and tall male customers, a demographic the company said is growing quickly. Customers signing up for the box have to take a style quiz that then selects five department store items to be shipped. The customer has seven days to decide whether to keep the item or return it. Unlike other boxes, J.C. Penney's box has no fixed price.
Under Armour is yet another retailer to introduce a subscription box. Shoppers can sign up for Armour Box for free to receive a box curated for them based on the profile quiz they took, every 30, 60 or 90 days. Shoppers then have a week to decide whether they want to keep any of the items or whether they want to return them. If the shoppers choose to keep the items, they will receive a 20% discount on the item to purchase it.