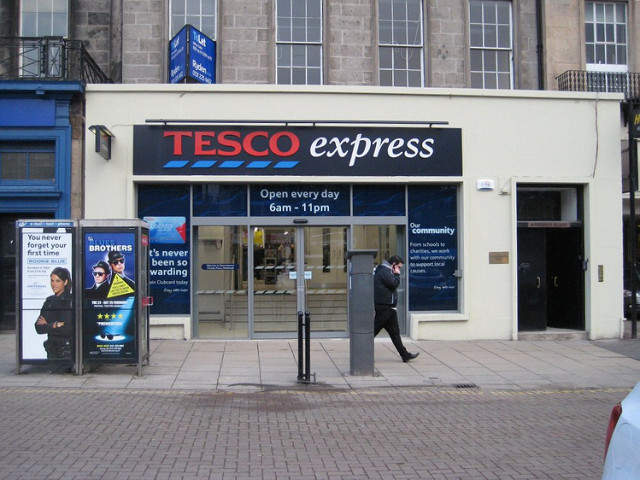 Tesco has apologised after payments took three months to process due to a glitch which affected hundreds of credit and debit card payments.
The retailer said 300 of its 1,700 Tesco Express convenience stores had been affected by a glitch in its payment system since the end of November. The glitch carried on throughout December and January, and most of the payments that have not been processed were under £10. Payments on non-contactless and contactless card were affected.
A spokesperson said: "As soon as we identified this issue, we contacted as many affected customers as possible and have now processed all incomplete transactions. The issue has now been resolved and we are sorry for any inconvenience this may have caused."
Letters sent to those affected said: "We are writing to let you know that a number of credit and debit card payments did not process correctly for some customers, in a small number of our Express stores. You may have noticed this as an unexpected transaction at Tesco in your bank statement."
Shoppers took to Twitter to express their anger at the retailer, with number of shoppers saying that delayed transactions had pushed them beyond their agreed overdraft limits.
Tesco asked any customers who were affected to contact the supermarket with a proof of the fees if they have faced overdraft or other fees as a result of the payment glitch.
Tesco has not broken any rules by charging customers three months later, and has told customers in the past it can charge them as late as six months after the transaction.
Steve Nowottny, the news and features editor at MoneySavingExpert.com, said: "It's good to see Tesco has apologised to shoppers, but this is a real blunder. For a major supermarket to take payments up to three months late simply isn't acceptable."
He added: "If you're operating on a tight budget it's crucial you know that payments will be processed more or less as you make them. Tesco needs to be clear now about the full scale of the problem, and must ensure it acts immediately to help anyone who's lost out as a result."
In January Tesco announced it was delaying changes to its Clubcard rewards scheme after a backlash from customers who objected to the retailer reducing the value of vouchers without warning.
The retailer said it had listened to the feedback and would postpone the introduction of the changes until 10 June.