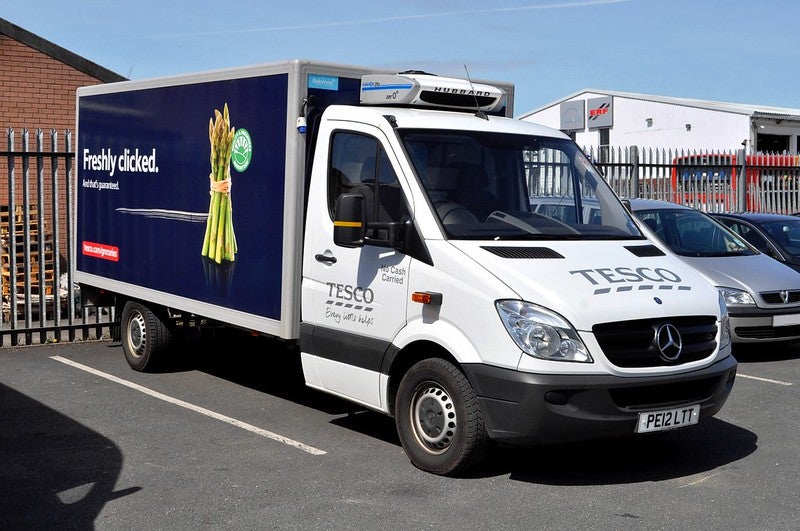 British supermarket chain Tesco has switched its delivery fleet in Glasgow, Scotland, to all-electric vans.
The retailer has deployed 17 electric vans powered by clean, green energy in the city.
The move is part of Tesco's larger commitment to becoming net-zero across its operations by 2035.
Glasgow will become Scotland's first city to switch fully to zero-emission vehicles for Tesco deliveries.
The city recently hosted the United Nations' COP26 conference on climate change.
Tesco records more than 3,700 deliveries in the city each week.
To support its transition to electric vans, the retailer will install 2,400 charging points across 600 stores, including 72 in Scotland, by the end of next year.
Tesco UK and Ireland CEO Jason Tarry said: "In this critical decade for climate action, businesses must play a key role in driving transformational change.
"As part of our efforts to secure a COP26 legacy for Glasgow, I'm delighted that Glasgow will be the first Scottish city to transition to an all-electric Tesco home delivery fleet.
"We're also increasing our use of rail distribution to take more emissions off our roads and helping boost the UK's renewable energy capacity by investing in renewable energy infrastructure, including nine new wind and solar farms across Scotland and throughout the UK."
Tesco plans to power all 5,500 of its home delivery vans across the UK with electricity by 2028.
The retailer delivers to almost 80,000 homes every week across Scotland, having expanded its services over the past 18 months.
Scottish Transport Minister Graeme Dey said: "This is just the beginning of action taken by Tesco and it is encouraging that the company is expanding the use of rail freight for the movement of fresh produce, investing in renewable energy infrastructure and decarbonising its entire home delivery fleet by 2028."
In September, Tesco committed to reaching net-zero emissions across its supply chain by 2050.