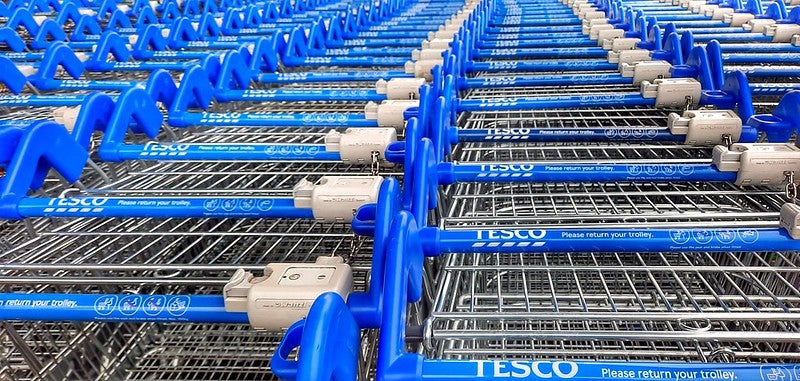 UK-based supermarket chain Tesco has raised its full-year profit expectation following strong results for the first half of the fiscal year 2021-22 (H1 21/22).
Group sales in H1 rose by 3% to £27.33bn ($37bn) at a constant rate compared to $36bn (£26.65bn) in H1 20/21.
Tesco's sales in the UK increased by 1.2% and revenues at Booker, its wholesale arm, were up by 11%.
The company's operating profits grew to £1.30bn, a 29.5% increase from £1.01bn last year.
Tesco chief executive Ken Murphy said: "We've had a strong six months; sales and profit have grown ahead of expectations, and we've outperformed the market.
"This was a strong team effort, and I would particularly like to recognise and thank our colleagues who continue to do an incredible job in difficult times.
"I'm really pleased with our progress as we increased customer satisfaction and grew market share leading to a strong financial performance.
"With various different challenges currently affecting the industry, the resilience of our supply chain and the depth of our supplier partnerships has once again been shown to be a key asset."
In response to these positive results, Tesco has increased its adjusted retail operating profit expectations for the next financial year to between £2.5bn and £2.6bn.
The company has also launched a share buyback scheme, through which it plans to buy £500m of shares back from investors by next October.
Murphy added: "Today, we are sharing the strategic priorities that will enable us to build on these advantages to stay competitive, accelerate growth and generate between £1.4bn and £1.8bn in retail free cash flow a year.
"These priorities will ensure we do the basics brilliantly, operate as efficiently as possible and grow our business by building unbeatable digital, convenience and loyalty platforms."
Last month, Tesco announced it would aim to reach net-zero emissions across its supply chain by 2050 as part of efforts to address the climate crisis.