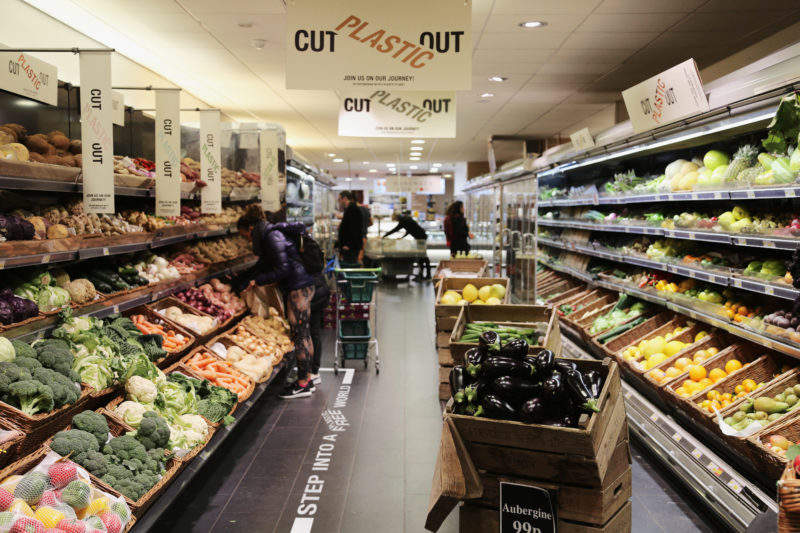 Supermarket Thorton's Budgens claims it has become the first independent retailer in the UK to introduce extensive plastic-free zones in its shop.
The London retailer has been working with environmental charity A Plastic Planet to substantially reduce the plastic in its store.
Thornton's Budgens founder Andrew Thornton said: "As the community supermarket that really cares we believe in taking a strong stance on major issues that affect our well-being and our planet."
"The issue of plastic is one that can no longer be ignored so we've chosen to be the first mainstream supermarket in the UK to introduce Plastic Free Zones. This means our customers will be able to do a comprehensive shop without the need to use any plastic packaging."
The new zones at Thornton's Budgens feature more than 1,700 products packaged exclusively in plastic-free materials.
The products include fresh produce from meat and fish to bread, cheese, vegetables and fruit, as well as a range of packaged food and drink products.
The supermarket has been experimenting with plastic-free materials including nets made from beech wood, pulp, paper, metal, glass, cellulose and carton board to package the produce in order to take the store 'virtually plastic-free' within three years.
Thornton added: "Our aim is to show the big supermarkets that it is not as difficult to go plastic-free as they think. If we with our limited resources in 10 weeks can introduce more than a thousand plastic-free products just imagine what the major chains could achieve."
Thornton's Budgens' move follows the introduction of plastic-free aisles comprising 700 products by Dutch chain Ekoplaze in a new metro-sized pilot store in Amsterdam.
Over the last year, consumers have grown increasingly concerned about the damage inflicted by plastic materials on marine life, highlighted by BBC's series Blue Planet, which aired last year.
A Plastic Planet has called for an urgent transformation of the UK's approach to waste management, urging the Government to use the new plastics tax to fund a national infrastructure that mandates both recycling and composting.
A Plastic Planet co-founder Sian Sutherland said: "Plastic is totally nuts. Thornton's Budgens are disrupting the market and showing that wrapping something as fleeting as food in something as long-lasting as plastic is the definition of madness."
"In just 10 weeks the store has removed plastic packaging from more than 1,500 products, finally giving their customers the choice they want. While big retailers claim it will take 10 years to create real plastic-free change, Thornton's Budgens has shown that we can start to wean ourselves off plastic in 10 weeks."
In 2010 Thorton's Budgens made headlines when it became the first supermarket in Britain to stock grey squirrel meat, which according to the company is 'a firm favourite' of celebrity chefs, including Hugh Fearnley-Whittingstall and Marco Pierre White.
Last week, chancellor Philip Hammond announced he would be introducing a tax on 'virgin plastic' when announcing the budget.