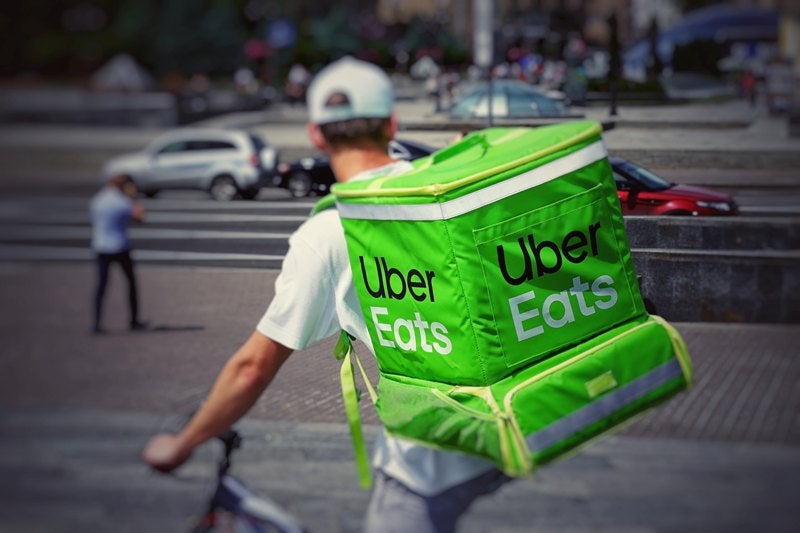 Ride-hailing company Uber Technologies is reportedly holding discussions with European supermarkets to launch a grocery delivery service to compete with rivals such as Deliveroo, Just Eat and Amazon.
Sainsbury's is reported to be holding discussions with Uber Eats about launching the grocery delivery service. Both firms are said to be working on a platform that would allow shoppers to order food products such as bread or milk from Sainsbury's on the Uber Eats app.
Earlier this month, Bloomberg reported that the UK-based grocer announced that it would partner with Deliveroo to deliver hot pizza to homes in four UK cities.
In May, Amazon led a $575m investment in Deliveroo, which said that it would use the funding to expand its technology network to compete against rivals such as Uber.
In February, online grocer Ocado partnered with Marks & Spencer Group to deliver groceries.
Meanwhile, UK antitrust regulators began an initial review of Amazon's Deliveroo investment.
Earlier this month, Just Eat said that it was expanding its partnership with Walmart-owned Asda to deliver groceries to UK customers within 30 minutes.
An Uber spokesman said: "We're currently speaking with a number of the major supermarkets around Europe."
A Sainsbury spokesman said: "We talk to many companies about potential partnerships that could help our customers access convenient and affordable products."
Ocado shares declined following the news and then increased by 2.3% in London while Uber shares gained 1.5% and Sainsbury's lost 0.6%.
In January, Uber Eats entered a deal with Australian supermarket Coles to deliver ready-made meals, dairy, fruit and breakfast cereals to shoppers.
In addition, American retailer Sam's Club has announced that its customers using Instacart can now receive same-day alcohol delivery.
The service is currently available in more than 200 locations in selected markets and there are plans to expand it to additional areas in the coming months.