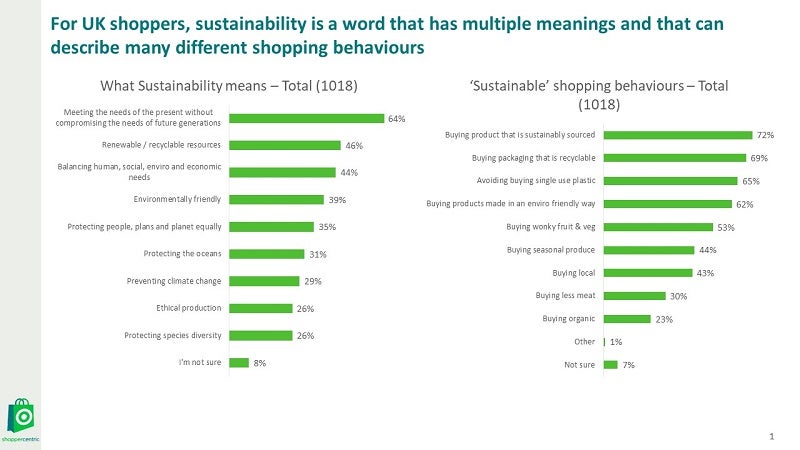 UK shoppers are going green, with 80%  describing themselves as 'environmentally friendly', according to the latest report from independent shopper research consultancy Shoppercentric.
The 'WindowOn…Shoppers and Sustainability' report surveyed 1,018 shoppers across the UK to examine their relationship with sustainability, including how they define it, where they look for sustainable items and what would encourage them to purchase more.
UK shoppers are becoming more sustainable with 82% stating they look for 'environmentally friendly' labelling when buying products, and 59% saying they actively try to avoid certain types of packaging.
Of those surveyed, people aged 75 and over are more environmentally friendly than the younger generation, with 58% of the older generation choosing products packaged in an environmentally-friendly way compared with 40% of 18 to 24-year-olds.
Some UK shoppers need more encouragement to shop green – 64% say they would be encouraged to buy more sustainable goods if there was equality in price between environmentally-friendly products and standard equivalents. Another 24% said more awareness of the positive impact of sustainable buying would influence their spending decisions.
Shoppercentric managing director Jamie Rayner said: "We need to consider what's required to change generational learnt behaviour – to buy necessity goods in 'sustainable' ways. Cost reductions are used to seek that competitive edge and as a result, price has become an overriding factor in shopper's product choice – but it doesn't have to be that way. We believe that there is an opportunity for brands to go beyond price, and reintroduce other equally important values. Since we last looked at this area of shopper behaviour nine years ago we can see significant positive changes have occurred."
Rayner added: "As environmental commentators have been pointing out, sustainability isn't just about buying the right things; it's also about buying less. For shoppers, there's still a long way to go, but the desire to do the 'right thing' is clearly there – however the difficulty is understanding how shoppers match their desire for change, with actual changes in their behaviour."