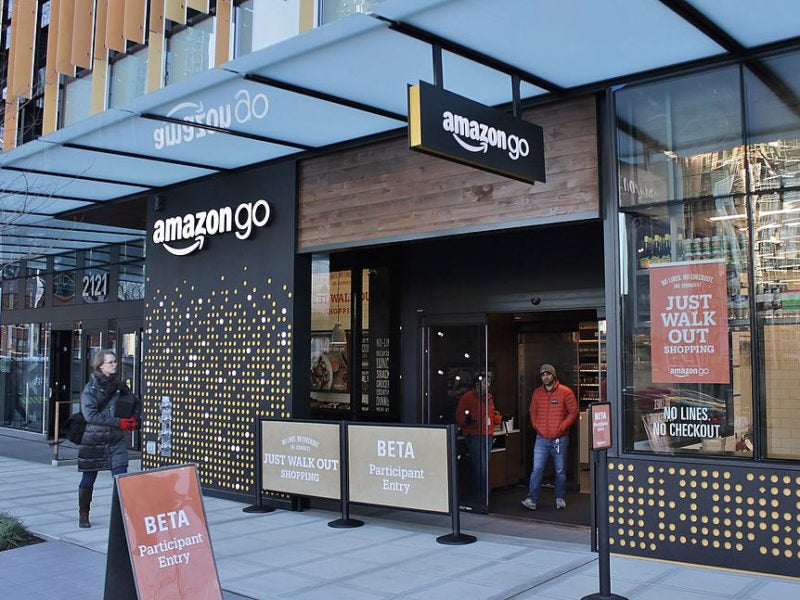 Amazon reportedly plans to open its first UK's checkout-free store in West London.
According to sources speaking to The Sunday Telegraph, the Amazon Go store could be located near Oxford Circus and would act as a flagship UK store for the company.
The move to open the first physical store outside the US was reportedly driven by Amazon's US team rather than the UK team. Amazon has not confirmed the report.
Amazon launched its first ever Amazon Go store to the public in January 2018 following a nearly 14-month trial involving employees at its HQ in Seattle. The retailer currently has seven Amazon Go stores across the US, in Chicago, San Francisco and Seattle.
Amazon said of its technology: "Our checkout-free shopping experience is made possible by the same types of technologies used in self-driving cars: computer vision, sensor fusion, and deep learning.
"Our Just Walk Out Technology automatically detects when products are taken from or returned to the shelves and keeps track of them in a virtual cart. When you're done shopping, you can just leave the store. A little later, we'll send you a receipt and charge your Amazon account."
Amazon seeks potential UK's checkout-free store locations
According to Bloomberg, the UK Intellectual Property Office approved a trademark for Amazon Go in May 2017, sparking the first rumours that the checkout-free store was making its way to the UK.
Bloomberg also reported that Amazon plans to open at least 3,000 of its Amazon Go stores within the next three years, and in August it was reported by numerous newspapers that Amazon could be eyeing former Homebase stores.
In October, The Sunday Times has reported that Amazon was looking at a number of UK retail sites between 4,000ft² and 5,000ft² for its Amazon Go stores.
Amazon told the UK Competition Market Authority (CMA)—which is currently investigating the proposed Sainsbury's-Asda merger—acquisition and investment in the UK grocery market were on the table in November.
The CMA said: "Amazon explained that Amazon Fresh is a recent entrant in the UK. At the moment, they are focusing on how to improve the customer experience."
Marina Koytcheva, of market researcher CCS Insight, said: "Amazon is still really in the phase of demonstrating the technology and showing to the industry and competitors that the concept is working.
"I have no doubt that Amazon has big plans for the US, but the UK certainly is one of its most important markets, and it's a really good place for Amazon to come next with this concept because consumers here are known for adopting technology quickly."