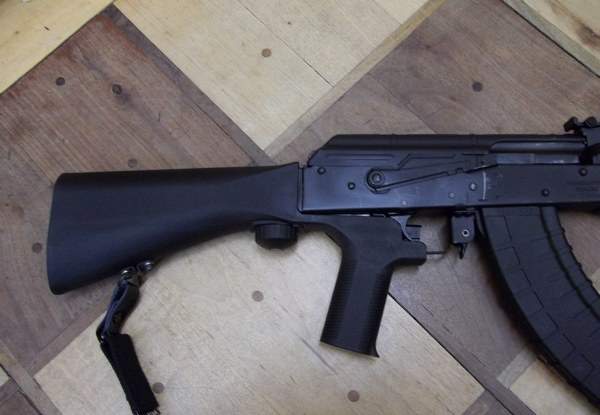 Gun sales in the US have fallen in the aftermath of recent mass shootings. However, this hasn't stopped some manufacturers from attempting to benefit from a lack of action on gun control laws.
A bump stock manufacturer called Slide Fire Solutions offered a Presidents' Day discount on the device as a salute to President Trump's decision to oppose any new gun control laws. The company used the hashtag #HeresToFreedom in its marketing.
Bump stocks enabled the Las Vegas gunman to fire semi-automatic rifles with the rate of a fully-automatic weapon. Before the incident in October 2017, which left 58 people dead and hundreds injured, bump stocks were an obscure range device popular with firearms enthusiasts. Firearms experts say they have no self-defence value, since they make guns very hard to fire accurately.
After the Las Vegas shooting, the National Rifle Association and Trump's White House expressed some willingness to further restrict, if not ban, the dangerous device. A few American states and cities, including Massachusetts and New Jersey, have passed local bump stock bans.
White House press secretary Sarah Huckabee Sanders said the President was 'open' to a conversation about what to do about bump stocks and similar devices.
She said: "We would like to see a clear understanding of the facts."
Speaking to the Dallas Morning News in early October, Slide Fire founder Jeremiah Cottle, a US Air Force veteran, said: "If the company had been forced to close after the outrage following the Las Vegas shooting, it would hurt the whole town, the school. We pay a very large amount of property taxes."
The newspaper reported that the bump stock manufacturer had once employed about a tenth of the town's entire population, and that it remained one of the area's largest employers.
During Barack Obama's presidency, people rushed to buy guns after every mass shooting, worried about possible future restrictions to gun sales.
However, mass shootings no longer boost gun sales under the Trump administration as buyers do not worry about tougher gun control following gun-related tragedies.
"In the year since the Trump administration took office, there's no serious discussion about gun control," said David Studdert, a Stanford professor who has studied gun sales in the wake of mass shootings.
He added: "This shooting may prompt some people to buy guns, it's unlikely to create the same kind of sales spike we saw following shootings during the Obama administration."
Last year was the worst year for gun sales, according to data going back to 1999. FBI background checks, which correspond roughly to purchases at licensed firearm dealers, fell 8% in 2017, the biggest full-year drop on record. This month, the iconic gunmaker Remington filed for bankruptcy following the decrease in gun sales.
Revenues reported so far for 2017 by gun and ammunition manufacturers Sturm Ruger, American Outdoor Brands, Vista Outdoors and the Winchester unit of Olin Corp fell by a combined $566 million last year, a decrease of 13%.
According to a Gallup survey last October, 42% of people said they had a gun in their home and there are an estimated 265 million guns in private hands in the US.
Robert Spitzer, a professor at the State University of New York at Cortland, said: "Gun sales have become politicised to a great degree,"
He added: "Gun purchases recently have been made not just because someone wants a new product but to make a statement; not just because of fears that there might be tighter regulation but also to make a statement against Obama."
Background checks also went up under the Obama administration. Following the 2012 Sandy Hook elementary school shooting, background checks increased by 49% compared to a year earlier. Monthly background checks also increased by 44% following the shooting at a San Bernardino, California, Christmas party in December 2015. The Pulse nightclub shooting in Orlando in June 2016 triggered a 39% jump in background checks.