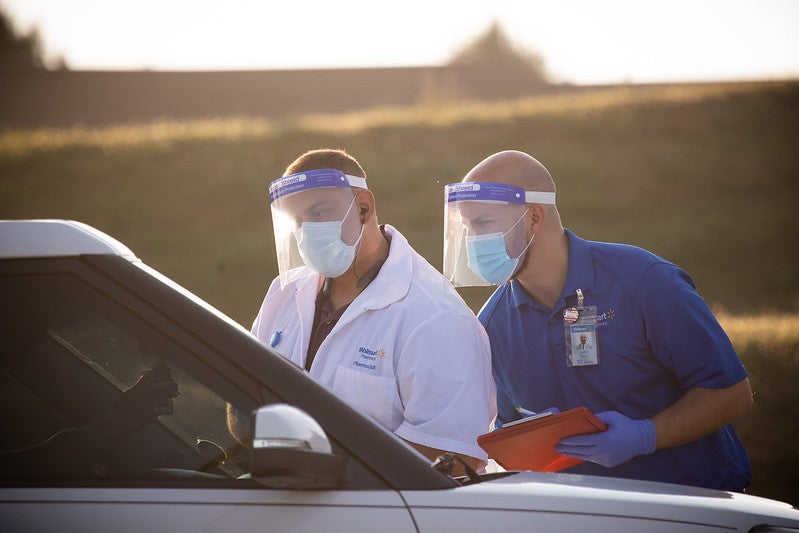 Several major US retailers, including Walmart and Kroger, have updated their protective measures against Covid-19 amid increasing numbers of cases in the country caused by the Delta variant.
The announcement comes after the Centres for Disease Control and Prevention (CDC) updated their guidance regarding wearing masks.
Walmart now requires masks for store associates in areas of 'substantial or high transmission', regardless of their vaccination status.
This policy applies inside all the company's facilities, including stores, clubs, distribution centres and fulfilment centres.
Walmart chief people officer Donna Morris and health and wellness executive vice-president Dr Cheryl Pegus said: "We remain focused on guidance issued by health experts, including the CDC, as well as state and local health departments.
"We will continue to follow the latest CDC guidance, which includes fully vaccinated people wearing masks in public indoor settings in areas of substantial or high transmission, effective immediately."
In addition to updating face mask policies, the multinational retailer is doubling the financial incentive given to its colleagues for getting vaccinated to $150. The incentive programme will be effective until 4 October.
Ms Morris and Dr Pegus said: "As a country, vaccination options have been available for months, but unfortunately, because so many people have chosen not to receive it, we've left ourselves more vulnerable to variants [of the virus].
"It is important that necessary steps are taken to keep ourselves and our communities safe."
Besides Walmart , retailer Kroger is also 'strongly' encouraging all individuals, including those who are fully vaccinated, to wear a mask when in its stores and facilities.
The Ohio-based supermarket operator initially made face masks mandatory only for unvaccinated employees.
Supermarket chain Publix has also made face masks mandatory for all store employees, regardless of vaccination status, as of 2 August.
Last month, several major UK retailers encouraged staff and shoppers to continue wearing face masks inside stores after they ceased to be mandatory on 19 July.