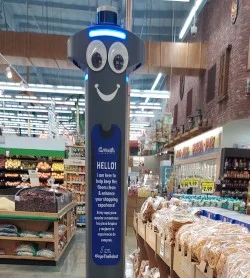 US-based supermarket chain Vallarta Supermarkets is piloting a multipurpose autonomous robot named Pepe at select stores in the US.
The testing is part of a pilot programme between Vallarta Supermarkets and Badger Technologies, a retail automation provider and product division of Jabil.
The Pepe robot has been deployed at five Vallarta Supermarkets in Fresno, Kern, Los Angeles and San Bernardino counties.
The supermarket's initial proof-of-concept (POC) involved a robot equipped with Badger Retail InSpect, which would support the existing manual floor inspections with automatic hazard detection capability.
Following the POC's success, Vallarta extended the trial to five stores to help identify hazards such as spills of liquids, powders or bulk-item foods.
Vallarta Supermarkets continuous improvement chief information officer and vice-president Steve Netherton said: "Providing our customers with a clean, safe environment is critical to our customers' experience.
"When we look at where to invest in innovative technologies, improving store operations is always a high priority.
"The Badger Technologies robots are helping us set new standards in store safety and cleanliness while ensuring a superlative shopping experience."
Vallarta is also testing a robot equipped with Badger Retail InSight to automatically detect out-of-stock product inventory at a sixth store.
This POC will help the retailer's pricing departments with collaborating and prioritising product restocking.
Badger Technologies CEO William 'BJ' Santiago said: "Our multipurpose autonomous robots offer much-needed relief by amplifying and extending staff operations while producing the data needed to improve customer satisfaction, storewide operations and retail revenues."
Badger Technologies has deployed nearly 600 autonomous robots throughout the US and Australia.
The robots are used to help stock shelves, ensure products are priced correctly and clean floors.
Founded in 1985, Vallarta currently operates 53 full-service markets in California and claims to be one of the state's largest Latino supermarket chains.