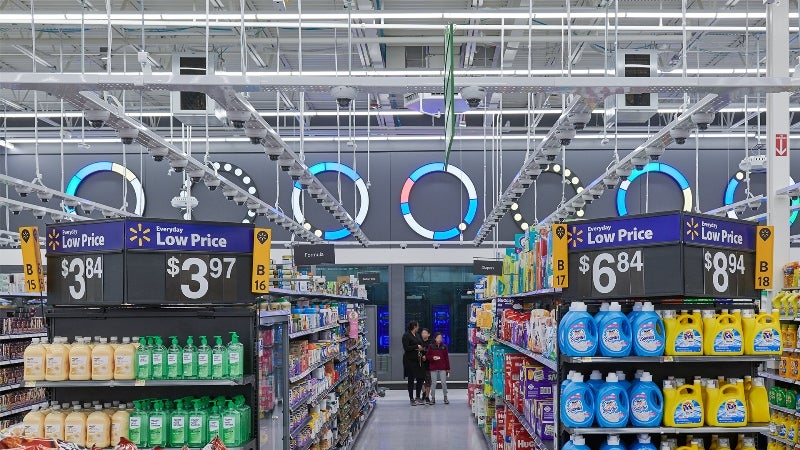 Walmart has opened new artificial intelligence (AI-powered) store concept, the Intelligent Retail Lab (IRL), at its Neighborhood Market in Levittown, New York.
The retailer will use the store, which features more than 30,000 products, to test technology in a real world environment. The IRL concept is designed by Walmart's tech incubator Store Nº 8.
Covering 50,000ft2, the concept store currently employs more than 100 associates to undertake experiments during the pilot programme.
IRL CEO Mike Hanrahan said: "When you combine all the information we're gathering in IRL with Walmart's 50-plus years of expertise in running stores, you can create really powerful experiences that improve the lives of both our customers and associates.
"The technology has been built to improve associates' jobs, to make their jobs more interesting, to help them alleviate some of the mundane tasks. AI can enhance their skillset in a very rapidly changing world."
"AI can enhance their skillset in a very rapidly changing world."
The store will feature a suite of cameras, sensors, and processors combined with real-time analytics to monitor inventory levels, automatically trigger out-of-stock notifications to internal apps that alert associates to restock and ensure product availability.
It will also use the technology to ensure shopping carts are available and registers are open.
Hanrahan added: "Customers can be confident about products being there, about the freshness of produce and meat. Those are the types of things that AI can really help with."
In addition, the store features a glass-encased data centre, and multiple information stations to make customers understand how AI is being used in the store.
According to Walmart, the lab also features small educational kiosks to allow customers to interact and understand technical specifications and common questions.