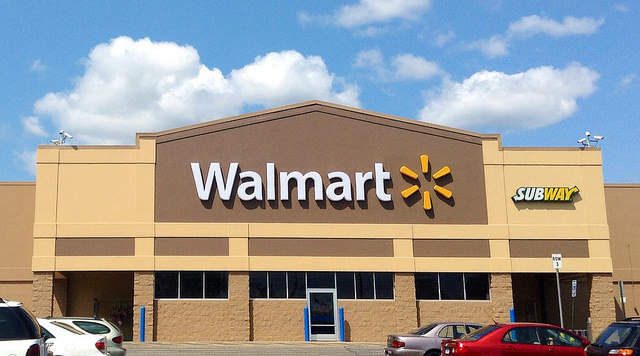 Walmart is asking its vendors to supply higher-priced items and brands to avoid to the loss it makes selling lower-prices items online.
The retailer told some of the world's largest consumer goods producers, including Procter & Gamble, Unilever, Kimberly-Clark, and Clorox, that it would prefer to sell items that cost at least $5 and ideally more than $10.
It is part of a move to avoid selling lower-priced items online following concerns about the associated costs.
A cheap item costs the same to ship as something the same size and more expensive, so there is a bigger profit margin on pricier goods, where shipping comprises a smaller proportion of the total cost.
An improved online profit margin better 'cushions' the larger built-in costs of e-commerce. It would not be sustainable for if the retailer offers the lowest prices online on every item and then spends $4 or $5 trying to ship it.
Selling cheap items online can result in a loss that is typically absorbed by big sellers like Amazon. To ensure a minimum value order, Amazon restricts some smaller, cheaper items to 'add-on' only which can be purchased only with an order of at least $25 to try and avoid losses. While Walmart is planning to only sell items that cost more than $5 online, there will be no change to Walmart's budget assortment in its stores.
The new focus will be on dry grocery products such as sauces, soaps and general merchandise items such as toys and home furnishings sold online. Walmart's plan to only sell items over $5 online marks a shift in its strategy. For years the retailer has aimed to offer the lowest prices for shoppers, both online and at its physical stores.
A Walmart spokesperson said:  "We are constantly looking for opportunities to expand our assortment with new items, and want to ensure that the items we add to the assortment are a great value but also make economic sense for the channel."
Dr David Rogers, president of DSR Marketing System Inc., said: "The costs of an online capability are extremely burdensome for retailers who are principally bricks-and-mortar."
He added: "The idea of having to charge people more online than you do in the store, which is basically Walmart's philosophy, is going to cause them problems down the road. It is very strange and ultimately they are going to have to change that."
Walmart.com already had begun to raise prices on some items sold online last year. By now enlisting suppliers to provide it with higher priced goods, it is taking that strategy a step further.
According to Rogers, Walmart's actions speak to the fact that the retail industry as a whole is squandering large amounts of money on online retailing.
"Some of the most successful retailers have a minor presence online," he said, citing T.J.Maxx, operator or Marshalls, Home Goods and other stores as one example.
"Lidl is cutting back on online activities. For retailers, it raises a big question about whether you choose to compete with Amazon." he added.
The grocer also made a decision to offer free delivery on every order of $35 or over to better compete with Amazon's two-day free shipping benefits for Prime members.