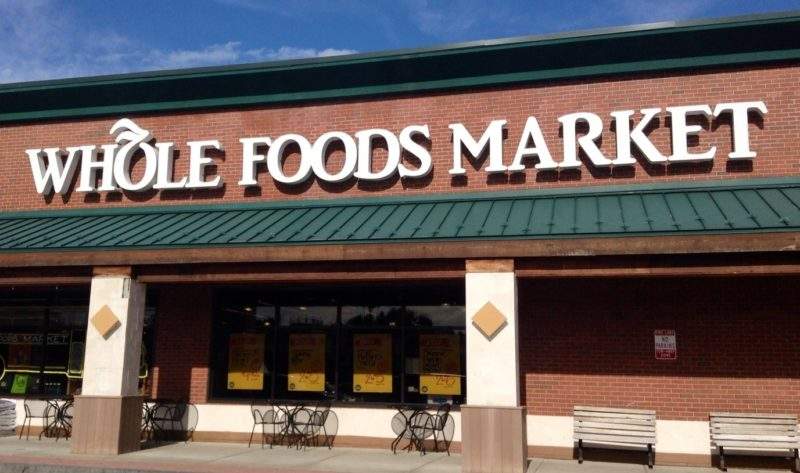 Whole Foods stores are suffering from inventory shortages leading to empty shelves, which employees have attributed to a new ordering system the grocer introduced company-wide in 2017.
Shoppers across the US have reported empty shelves at their local stores in recent months and analysts from Barclays Investment Bank found stores in disorder with 'entirely empty' shelves and 'deteriorating' produce.
Barclays reported 'high' out-of-stock issues last week in every department of one Midwest store across both private-label items and branded items, and one East Coast store had 'extraordinary' inventory problems.
"The store had no bananas and the supply of eggs and Tropicana products was very low," the analysts reported. "Entire displays, refrigerated cases and end caps were completely empty. The prepared foods hot bar was entirely empty."
The ordering system referred to as 'order-to-shelf' or OTS, is a controlled system designed to streamline and track product purchase, displays, storage and sales. Instead of keeping additional product in stock rooms that can be used to replenish shelves, OTS products are taken straight from delivery trucks to store shelves, bypassing the backroom altogether.
Whole Foods executives praised its new ordering system on an earnings call last year, noting that it was reducing waste and dramatically 'improving and helping our out-of-stocks'.
The decision to go to OTS reportedly originated from Whole Foods headquarters in Texas. Amazon bought Whole Foods last summer, and employees told Business Insider they hope Amazon will fix the problem once it realizes what is happening.
Customers finding empty shelves when trying to complete their weekly grocery shop took to Twitter to voice their complaints.
One user said: "Once again your Upper East Side @WholeFoods is a failure. Sunday before a work week and your shelves and fish/meat counters are basically empty. Forget getting any fresh fruit or vegetable. This store is constantly a mess."
Social media was also flooded with pictures of empty produce bins, bare meat counters and sparse shelves at Whole Foods across the country.