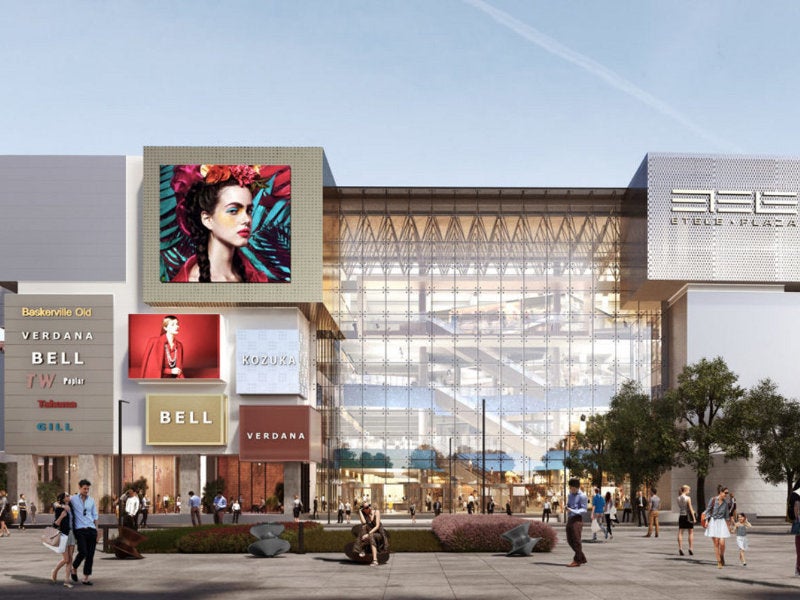 Etele Plaza is the third biggest large-scale shopping centre in Hungary and is being developed in Újbuda district of Budapest with an estimated investment of €300m ($340m).
The complex will feature modern shopping and entertainment facilities to provide enhanced shopping experience for up to 40,000 visitors a day.
The foundation stone for the Etele Plaza project was laid in November 2018, while construction is scheduled for completion in the second half of 2020. When operational, Etele Plaza will become the biggest shopping and entertainment hub in Budapest.
The shopping centre secured the best Hungarian Retail Development project award at the International Property Awards.
Etele Plaza shopping centre location
The Etele Plaza shopping and entertainment centre will be located at the end of Etele Road, adjacent to the Kelenföld railway station, in the South Buda City Center, south-west of Budapest.
It will be in close proximity to the dense residential area, where approximately 235,000 people live. The location is well-connected to two highways M1 and M7, in addition to the 23 intercity and 27 city bus lines, the M4 metro line of Budapest Metro, and other public transport services.
Etele Plaza shopping centre design details
Etele Plaza will have a gross building area of 137,000m². Its design will incorporate energy-efficient solutions and sustainable features according to the BREEAM 'Very Good' certification requirements.
The building's exterior will be covered with a sleek glass curtain wall to allow natural light into the building. Double-height shop windows will be fitted for some of the retail units.
"The shopping centre secured the best Hungarian Retail Development project award at the International Property Awards."
The interiors will include fashionable corridors, an elegant lobby, and attractive decor. A central perpendicular circulation axis will be created at the centre of the complex.
The restaurant in the complex will be directly connected to the green-roofed terraces, creating a unique design. A 200m² interactive LED display media interface will be installed to create a contemporary shopping experience.
Etele Plaza complex layout and facilities
Etele Plaza will have up to 200 retail units in a gross leasable area of 54,200m² over three levels, hosting international and local fashion brands, a grocery store, a fitness centre, children's playhouse, restaurants, and entertainment facilities.
The complex will also feature a roof terrace, a chillout lounge, and an indoor and outdoor adventure park. A food court will be located on the first floor, while a modern movie theatre will be situated in the top level. Cafes will be available in each floor of the building.
The shopping centre will feature up to 1,280 parking spaces, including 200 designated for families, across two levels of underground parking and three levels of rooftop parking. The facility will also offer park-and-ride service in close vicinity for up to 2,400 vehicles.
Financing
Futureal obtained a €150m ($170m) loan from a consortium of Italian banking and financial services provider UniCredit and Austrian financial services provider Erste Group in September 2018.
The loan has a repayment term of ten years.
Contractors involved with Budapest's biggest shopping centre
Hungarian real estate developer Futureal Group is responsible for the development and construction of the Etele Plaza shopping and entertainment complex.
Paulinyi-Reith & Partners, an engineering company based in Hungary, provided design services for the mall, while architecture firm Dyer developed the interior architecture of the building.
The concept of the Etele Plaza shopping complex has been designed by global architect Chapman Taylor's Düsseldorf studio.