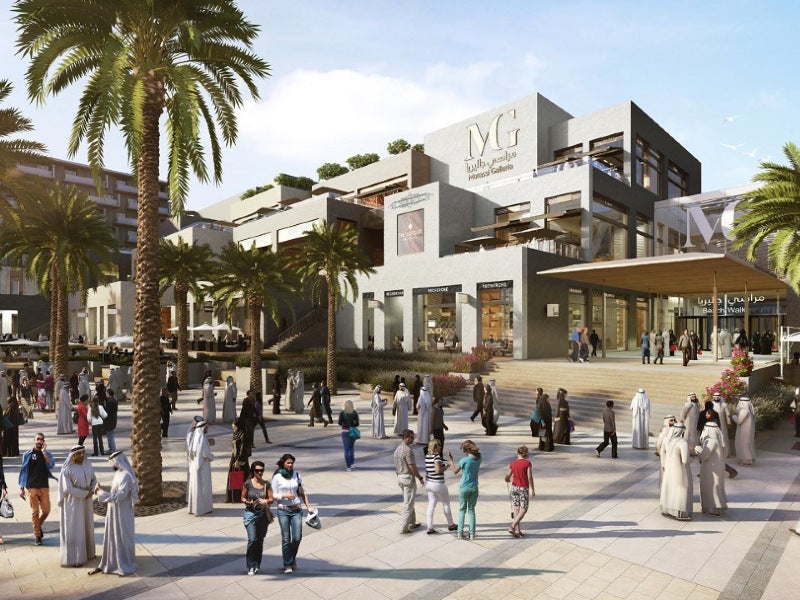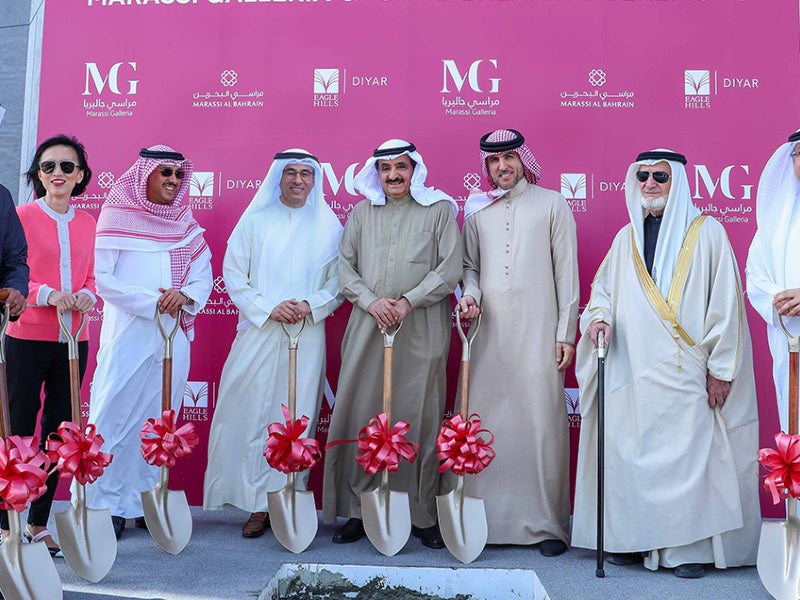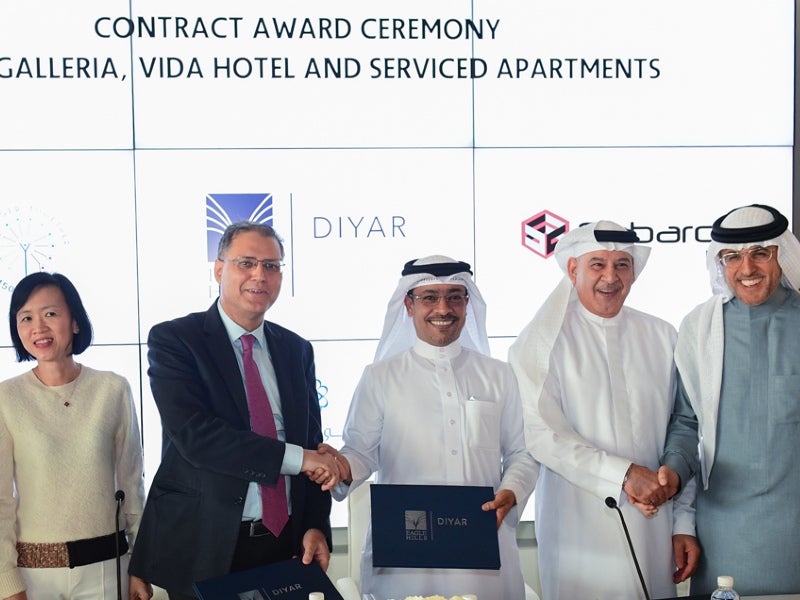 The Marassi Galleria is a beachfront mega shopping mall under development on the southern island shore of the Diyar Al Muharraq islands in Bahrain.
The shopping centre is part of a luxurious urban mixed-use project named Marassi Al Bahrain, which is being developed by Eagle Hills Diyar, a joint venture (JV) between Diyar Al Muharraq and Eagle Hills. Diyar Al Muharraq is a Bahrain-based urban developer while Eagle Hills is a real estate company based in the United Arab Emirates (UAE).
The publicly accessible Marassi Al Bahrain development is a combination of commercial and residential properties with 2km of waterfront and sandy beaches. It is expected to create a sustainable township in the country.
The construction of the Marassi Galleria mall began in January 2019, and completion is scheduled for the second half (H2) of 2022.
Marassi Galleria location
The shopping centre site lies within the Marassi Al Bahrain, which is being developed on Diyar Al Muharraq, an archipelago of seven artificial islands located off the coast of Muharraq City.
The facility is located near the central business district in central Manama, the capital of Bahrain. It can be reached from the major cities in the region, including Kuwait City, Riyadh, and Dubai, by car within four hours or by flight within 45 minutes.
Marassi Galleria mall details
Set to become a major tourist attraction in the region, the Marassi Galleria shopping mall will have 200,000m² (2.15 million square feet) of gross floor area, 116,000m² (1.24 million square feet) of gross leasable space, and 450,000m² (4.84 million square feet) of built-up area.
The shopping centre will also include two floors above the ground floor. It is expected to attract the top retailers in the world and offer unique and sophisticated dining and entertainment options for visitors. The retail areas will extend to the beach and merge with the recreational facilities located on the beachfront.
The Marassi Galleria will feature five interconnected urban lifestyle districts, including a high street, a family plaza, an animated rooftop, a waterfront dining promenade, and a luxury courtyard.
The high-street district will provide a distinctive experience with lifestyle, shopping, and food and beverage (F&B) concepts integrated with street performances and other events. The family plaza, which will be surrounded by cafes, will be equipped with play zones for children while the waterfront dining promenade will offer multiple culinary options.
In addition, the promenade will include restaurants and cafes, as well as a walkway along the beach. An activation area on the rooftop of the shopping mall will be dedicated to outdoor events. It will provide a panoramic view of the beach and the city. Visitors can engage in high-end shopping and dining at the courtyard, which will also feature facilities such as valet parking and a drop-off zone. The courtyard will provide direct access to the nearby Address Marassi Al Bahrain hotel.
The shopping facility will have 5,700 parking spaces spread across eight levels.
Retail and entertainment options at Marassi Galleria
The mall is expected to have approximately 560 retail outlets spread over three floors. Trafalgar Luxury Group, a luxury retailer based in the Middle East, will open retail stores of its brands, including Aigner, Furla, and Marli, in the mall.
Kuwaiti fashion retailer AlYasra Fashion will also open outlets of international brands such as DKNY, Sam Edelman, Cole Haan, and Koton.
Eagle Hills Diyar and UAE-based shopping malls and retail stores operator Majid Al Futtaim signed an agreement to open a Carrefour hypermarket at the mall in December 2020. To be developed as a first-of-its-kind concept, the Carrefour store will cover an area of 3,000m² (32,291ft²).
Eagle Hills Diyar formed a JV with UAE-based firm Emaar Entertainment to introduce an aquarium and underwater zoo in August 2020. The 26,900ft² (2,499m²), 360,000l-capacity Marassi aquarium and the underwater zoo will be able to accommodate more than 200 species of fish.
To be operated by Emaar Entertainment, the facility will include a 20ft-long digital tunnel with multiple interactive digital exhibits to provide a modern edutainment experience.
The new shopping destination will also house the first multi-screen cinema complex of Emaar Entertainment's cinema brand Reel Cinemas, in Bahrain. The cinema complex will feature ten screens with advanced cinema technology, Dolby acoustics' immersive sound, and luxurious, adjustable seating with spacious legroom. The cinema chain will also debut its dine-in cinema concept at the mall, allowing visitors to enjoy food at their diner-style seats.
Other amenities at Marassi Galleria
The shopping centre will be home to a trampoline park and a virtual reality (VR) theme park.
The wedding precinct at the mall is expected to strengthen the country's position as a wedding destination. It will house everything related to weddings, including designers, wedding gowns, evening dresses, wedding planners, florists, beauty salons and spas, photographers, perfumes and cosmetics, jewellery, and high-end home furnishings.
Contractors involved
The JV of Shapoorji Pallonji Mideast, a subsidiary of the Indian conglomerate Shapoorji Pallonji group, and civil engineering company Cebarco Bahrain, received a contract worth more than $300m for the construction of the Marassi Galleria mall.
German ground-engineering firm Keller Grundbau was awarded a contract for major piling works at the shopping mall.
Specialist fire safety systems supplier Advanced, a subsidiary of global life-saving equipment manufacturer Halma, was selected to provide Axis AX fire panels for installation at the mall and the adjoining Vida hotel and serviced apartments, which are part of the Marassi Al Bahrain project.
Green Innova, a company based in Bahrain, has been contracted to supply and install exterior insulation and finishing system (EIFS) and textured coatings on non-EIFS render facades for the shopping centre.
Park Assist, a part of the Dutch company TKH Security, was selected to provide a smart, sensor-based parking guidance system for the mall in January 2021.
Jalal Schindler Lifts & Escalators was awarded a contract to supply 78 escalators, 51 elevators, and two moving walkways.