Tanger Outlets Nashville in Nashville, Tennessee, will include more than 70 stores. Credit: Tanger Factory Outlet Centers, Inc.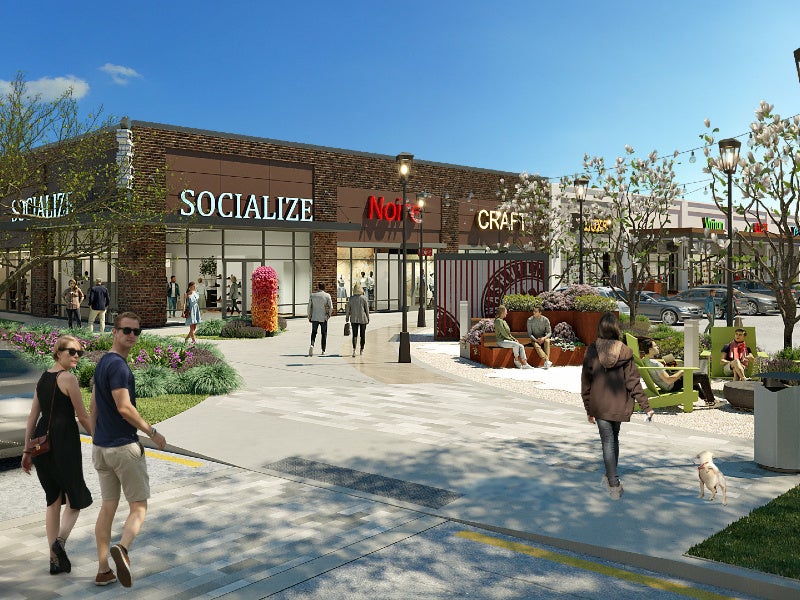 It is Tanger Factory Outlet Centers' third shopping centre in the state. Credit: Tanger Factory Outlet Centers, Inc.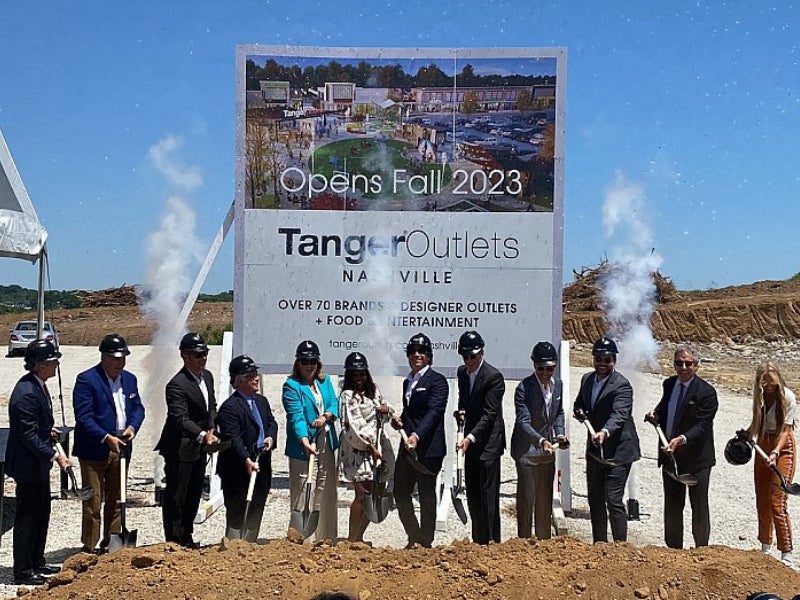 Groundbreaking on the shopping centre took place in May 2022. Credit: Choate Construction Company.
Tanger Outlets Nashville is a new outlet shopping centre being built by Tanger Factory Outlet Centers (Tanger), a real estate investment company based in the US, with an estimated investment of $145m.
Located in Nashville, Tennessee, the new shopping centre is expected to open in the fall of 2023. It is Tanger's third outlet in Tennessee, joining others in Sevierville and Memphis in the state. It will also be the 37th shopping centre in the developer's portfolio.
The new shopping centre will bring a best-in-class outlet shopping centre and add a new dimension to the retail mix of the city. It will feature a collection of major retail and brand partners while also serving as a location to gather for both locals and visitors in the greater Nashville area.
The outlet shopping centre is expected to play a significant role as an economic driver for the local economy. It will create approximately 700 jobs during the construction phase and up to 1,100 full and part-time retail and management jobs upon completion.
Tanger Outlets location
Tanger Outlets Nashville is located along Interstate 24 (I-24) at Hickory Hollow Parkway in Antioch. It is situated 11 miles (17.7km) from Nashville and 20 miles (32.18km) from Murfreesboro.
The outlet centre is being developed on a 32-acre parcel of land within Century Farms development, a 300-acre, mixed-use development in Davidson County, Tennessee. The development is set to include a range of retail, office, residential, and entertainment avenues.
The site is located within ten miles (16km) of reach for more than 450,000 locals, and within 30 miles (48.2km) for a population of 1.68 million.
Tanger chose Nashville due to the low cost of doing business, which is 10% less than the national average. It is also one of the fastest-growing metros in the US and ranked third in terms of inbound population growth in 2020.
Development details
Tanger initiated the pre-development activities for the project in 2019. The company temporarily stopped the pre-development activities on the project in 2020 and resumed them in the following year.
Ground-breaking on the outlet shopping centre took place in May 2022. The construction is progressing steadily, with the first set of steel being erected to pave the way for precast panels as of January 2023.
Features and retail options at Tanger Outlets
Tanger Outlets Nashville will include six retail shell buildings, covering more than 290,000ft² (26,942m²) of area. It is expected to include more than 70 brands including digitally native businesses and popular local concepts.
The shopping centre will provide well-manicured outdoor spaces and delicious dining options for visitors, in addition to bringing convenient access to products at affordable pricing.
Some of the luxury brands that will be present at the shopping centre include Armani, Hugo Boss, Tory Burch, Vince, and Rag & Bone. The centre will also be home to digitally native brands such as Shinola.
Contractors involved
Dorsky + Yue International, an architecture firm based in Florida, US, provided the architectural design for the Tanger Outlets Nashville shopping centre.
Choate Construction, a construction company based in Georgia, US, was awarded a contract for the project's construction. The company was involved in the project for more than two years before construction began. The project is also the third Tanger Outlet centre being built by Choate.
Kimley-Horn and Associates, a planning and design consultancy based in North Carolina, US, is also involved in the project.