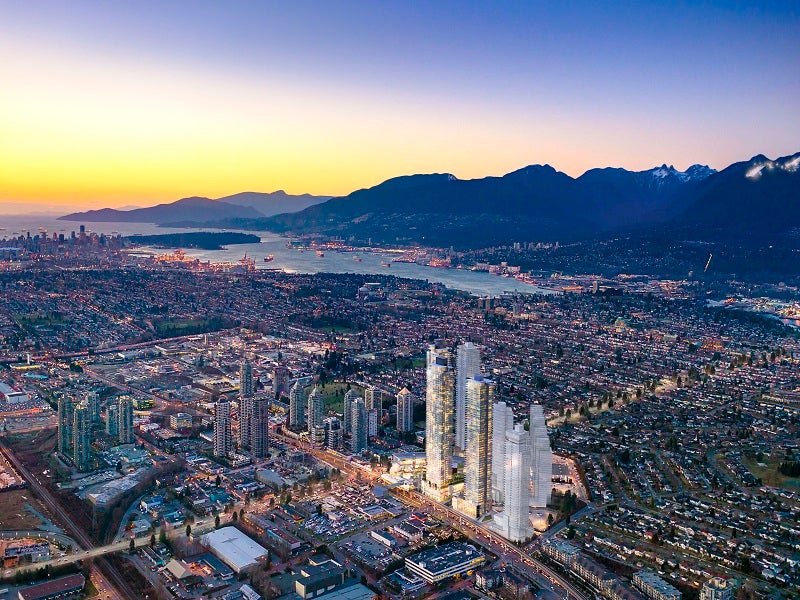 The Amazing Brentwood is a master planned community being developed across 28 acres at the heart of Metro Vancouver. Credit: SHAPE.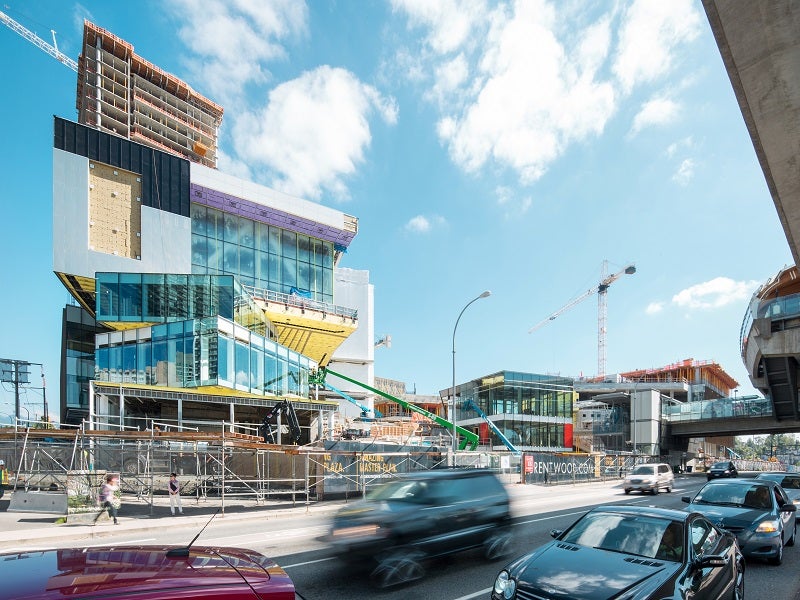 The initial investment in the construction of the Amazing Brentwood is expected to be C$2.35bn ($1.76bn). Credit: SHAPE.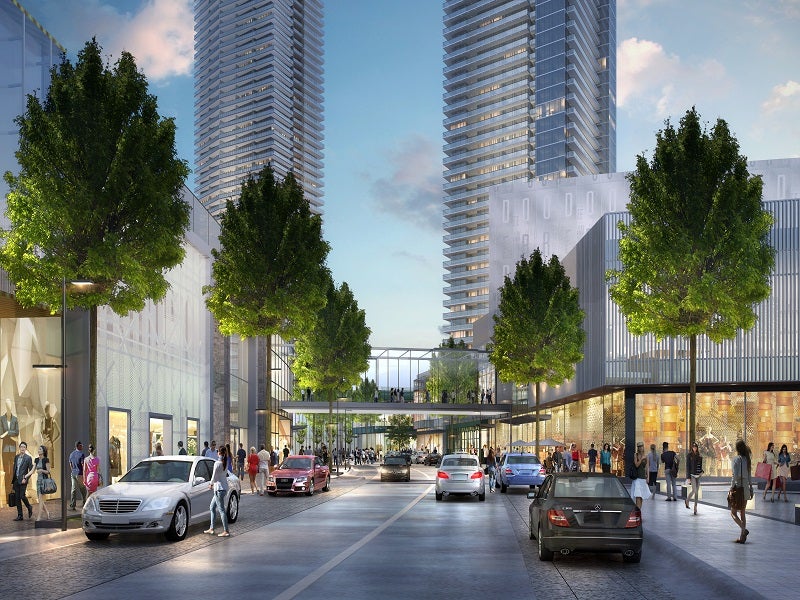 The Amazing Brentwood will have more than 250 boutique and luxury stores. Credit: SHAPE.
The Amazing Brentwood project is a redevelopment of the Brentwood Town Centre, a shopping centre in Burnaby, British Columbia, Canada. It is one of the largest and most significant mixed-use developments in North America.
The project is being developed by Shape Properties (Shape), Healthcare of Ontario Pension Plan (HOOPP), and L Catterton Real Estate (LCRE).
It involves a mix of retail units, restaurants, residences, and office spaces. It is being implemented in multiple phases, with phase one already opened. Construction of the first phase began in 2014.
The initial investment is estimated at C$2.35bn ($1.76bn), including C$1.48bn ($1.11bn) for phase one and $850m ($637.67m) for phase two.
The Amazing Brentwood location
The Amazing Brentwood is located at the northeast corner of Willingdon and Lougheed Highway in North Burnaby, British Columbia.
The transit-oriented development can be accessed by the Millennium SkyTrain line. Visitors can board the SkyTrain rapid transit system and get down at the Brentwood Town Centre Station, which is located near the mixed-use development.
The location can also be reached by bus, car, bicycle, ferry, and taxi.
History of The Amazing Brentwood
The Brentwood mall is the oldest shopping centre in Burnaby. It was opened in August 1962 with major retail stores such as Eaton's, Loblaws Supermarket, and Zellers.
The regional mall had 125 retailers and services as of 2010. It was purchased by Shape in 2010 and renovation ideas for The Amazing Brentwood were proposed.
The Amazing Brentwood project details
The Amazing Brentwood is being developed as a 28-acre master planned community, which will double the size of the old shopping centre from 550,000ft² to approximately 1.1 million ft².
The project will provide 3.9 million ft² of commercial space and approximately 4.5 million ft² of high-rise residential space comprising 11 residential towers and more than 6,000 new homes.
Phase one development included a multi-level commercial podium, six levels of below-grade parking, and three towers. Two of the towers are residential towers, each 612ft tall and reaching 56 storeys, while the third is a 597ft, 55-storey mixed-use residential and office tower.
Phase two includes Towers 5 and 6, which will provide an additional 506 homes, 53 affordable housing units, 21 market rentals, and 369 market condominiums. It will create 8,800ft² of commercial space.
The shopping centre will comprise more than 250 stores, a food court, and a one-acre public plaza with spill-out patios, event spaces, and a beautiful water feature.
Retail and entertainment options
The shopping centre houses retailers such as Sephora, H & M Hennes & Mauritz's H&M, Adidas, London Drugs, Nike, Urban Outfitters, Body Energy Club, Sporting Life, Thinka, Wo-Men's Club, Suzy Shier, L.L.Bean, Eyes Inspire, and Scissors & Comb.
It also features Cineplex VIP Cinemas, a five-screen theatre in the Grand Lobby on level three.
Rec Room, which is owned by Cineplex, is an entertainment and food destination that combines cuisine with live entertainment and fun amusement games under one roof.
Food and beverage units
The Amazing Brentwood features a food court known as Tables, which is spread across 27,320ft² on level two.
R+D Kitchen by White Spot, a new concept restaurant, was opened at the Tables in May 2022. The full-service restaurant, lounge, and bar is designed with full-size windows running the length of the wall between the dining room and kitchen to provide guest views of the kitchen.
The mixed-use shopping centre also includes Basil Box, Bona Fide BBQ, Cazba Persian Grill, Bubble Waffle, Chef Hung, Dairy Queen/Orange Julius, Purdys Chocolatier, Freshii, Gram Café & Pancakes, Japadog, Kaneko Hannosuke, Glorious Bao, Starbucks, and Thaigo.
Other food and beverage outlets include Steve's Poké Bar, Parsley Berlin Style Doner-Kebab, McDonald's, OEB Breakfast, Presotea, Soon Coffee, Pizza Garden, Tim Hortons, and Chatime.
Contractors involved
EllisDon, a construction and building services company, was engaged to handle pre-construction services, as well as the phase one construction management services. Axiom Builders was appointed as the general contractor for the project.
Canada-based design and consulting services company Stantec acted as an architect for commercial work and Towers 1 and 2. It also performed architectural and mechanical engineering for Tower 3.
Stantec was also contracted to provide consulting related to sustainability and building performance to support the Leadership in Energy and Environmental Design (LEED) certification targets for the project. Furthermore, the company developed a web-based request for information (RFI) dashboard for the project.
James KM Cheng Architects, IBI Group, and Musson Cattell Mackey Partnership were also selected as the architects for the project.
Active Fire and Safety Services, a fire safety company, installed more than 22,000 residential sprinklers and dry sprinklers in the parking garage, with separate sprinkler zoning for retail and commercial areas.
Crystal Fountains, a water feature design and product manufacturing company, performed a full simulation of the water feature, which is a gathering area within the public plaza.
Shape engaged design solutions provider MG2 in order to improve retail design strategies and look at future potential design phases for the project.
GUNN Consultants, a vertical transportation expert, received a contract to supply passenger and freight elevators, and escalators.
RDH Building Science provided energy modelling for the residential towers, consulting on building enclosures, as well as facade structural and engineering for the first three towers and commercial areas.
Tetra Tech's High Performance Buildings Group was chosen by Shape to provide the mechanical engineering for the shopping mall and two residential towers. Tetra Tech also provided acoustical engineering services for the mall's food court.
The electrical engineering and design services contract for the project was awarded to mechanical and electrical consultant Smith + Andersen.
CES Engineering was chosen as the commissioning authority for the overall project. Its contractual scope includes providing commissioning services for all mechanical, electrical, and control systems in line with LEED requirements.
Park Assist, a parking guidance system technology provider, received a contract to install its M4 parking guidance system at The Amazing Brentwood.
GH+A provided design and planning services for the Tables food retail concept. Soucy Aquatik, and SWA Group were also engaged as contractors for the project.