The redeveloped Westfield Newmarket in Auckland, New Zealand, will house 230 specialty stores. Image courtesy of Scentre Group.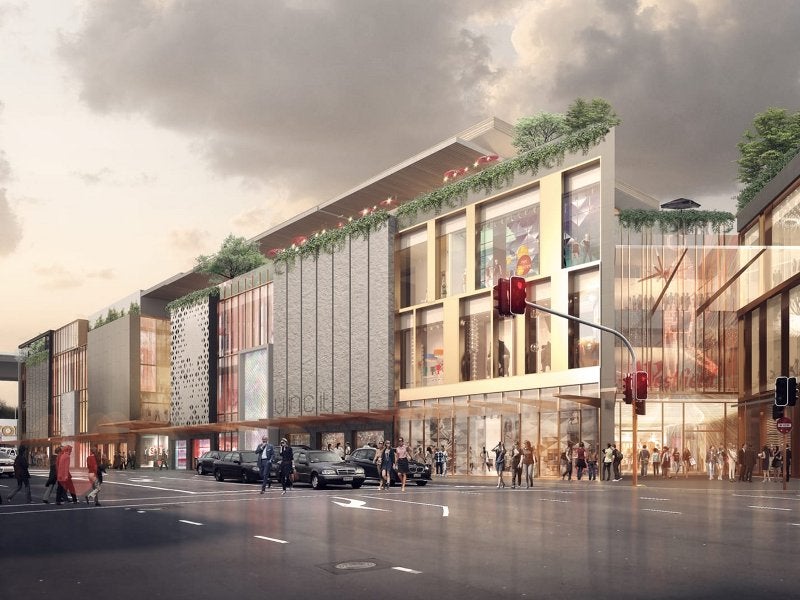 The first phase of the Westfield Newmarket transformation is expected to be completed by the end of 2019. Image courtesy of Scentre Group.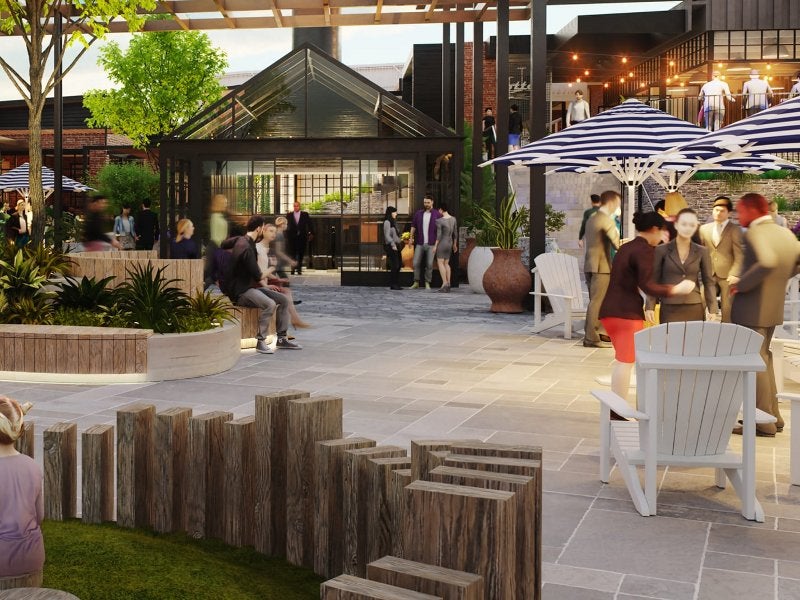 Westfield Newmarket is being redeveloped with an investment of NZ$790m ($570m). Image courtesy of Scentre Group.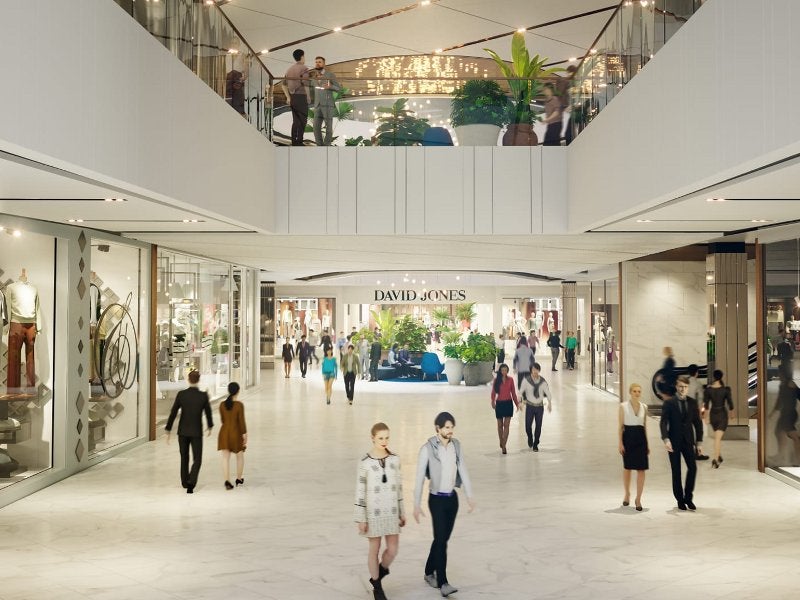 A glass airbridge is being built to connect both the buildings.
The main building has five floors, each with a floor area of 11,500m² (123,785ft²). Credit: JPRO Ltd.
The Westfield Newmarket retail and lifestyle centre in Auckland, New Zealand, has been redeveloped and refurbished to provide a world-class retail experience for the visitors.
The multi-phase redevelopment project involved an investment of NZD790m ($570m), of which Scentre Group, the developer, contributed NZD400m ($288m). GIC, an investment fund based in Singapore, acquired a 49% interest in the shopping centre under a joint venture (JV) agreement with Scentre Group in 2014.
The refurbishment works began in February 2018 while the first phase was completed and opened in November 2019. Seven new luxury brands, including Louis Vuitton, Saint Laurent, Moncler, Balenciaga, and Mulberry, opened stores at the mall in 2021.
The redeveloped and extended mall is one of the biggest retail malls in Newmarket, with a gross leasable area of 88,150m² (948,838.7ft²). It serves approximately 555,000 residents.
Westfield Newmarket location
The Westfield Newmarket shopping mall is spread across two sites at 277 and 309 Broadway, covering a total area of 4.5ha, at Broadway in the Newmarket town of Auckland.
Neighbouring areas of the sites include Mortimer Pass, Broadway, Clovernook, Gillies, and Morrow Street.
The site is located approximately 4km from the Auckland CBD, a major retail district.
Westfield Newmarket shopping centre design details
The existing shopping mall at the 277 Broadway site has been transformed to accommodate a new mall. Another shopping block was built at the 309 Broadway site. The two buildings are connected by a 12m-high, two-level glass airbridge built on Mortimer Pass.
The main building consists of five floors, with each level having a floor area of 11,500m² (123,785ft²). The first three levels are dedicated to shops while the fourth floor features a cinema theatre, gymnasium, and a car park.
The structure of the building consists of steel frame with lightweight concrete floors supported on steel beams and columns.
The foundation of the buildings is made up of reinforced concrete piles inserted into the rock strata while the roof is made up of lightweight steel.
The shopping mall has a multi-storey car park building, with 2,770 parking spaces along Gillies Avenue/Mortimer Pass, and Gillies Avenue/Morrow Street. The car park building has two facades featuring 9,320 diamond-shaped aluminium panels, supported by 105t of steel.
The shopping centre also has an underground car park.
Retail and entertainment facilities at Westfield Newmarket
Westfield Newmarket houses approximately 230 new specialty stores across five levels. The retail stores include local and international designers, along with the latest and well-known brands from New Zealand and Australia.
Auckland's first David Jones department store occupies 7,000m² (75,347.37ft²) at 277 Broadway across the ground and first levels, with several brands, interactive trial rooms, a beauty room, two personal shopping suites, and a designer accessories area.
The Farmers Trading department store covers 10,000m² (107,639ft²) at 309 Broadway across two levels. New Zealand's first Coco Republic Auckland boutique, featuring a L'Americano Espresso Bar, occupies 1,000m² (10,763.91ft²) of space in the mall.
Other retailers include Countdown supermarket, Rebel Sport, Torpedo 7, Kathmandu, and Noel Leeming. The Countdown Supermarket will comprise speciality stores such as fresh produce, cafes, and gift shops.
The mall features a dining and entertainment precinct on the rooftop called 'Rooftop on Broadway', which houses New Zealand's best food and beverage facilities including White +Wong's, Sardine Cocktail Bar, Something & Social, Bird On A Wire, and Tai Ping.
The rooftop precinct also integrates Westfield Newmarket's Event Cinemas complex with V-Max and Gold Class options for cinema goers.
Contractors involved
Contract Landscapes was contracted for the enabling works while Gleeson & Cox was employed as the main civil contractor for the shopping centre.
Grouting Services undertook geotechnical works while DHC Consulting was contracted for consultation services.
Chillex Group provided mechanical works for the heating, ventilating, and air-conditioning systems of the building. The office fit outs were carried out by Total Property Worx, whereas the carpentry and interior works were assigned to Ever Construction.
The contract for underground services was awarded to Underground Service Locators. JJS FloorSpec carried out the floor works while Armourguard was responsible for providing security services for the mall.
Clearwater Construction, a design and structural solutions provider based in New Zealand, acted as the structural contractor for the project. It provided the construction and supervision of all foundations, structural steel frames, and floors.
Forté Civil was selected for the installation of critical infrastructure on three water networks, including stormwater, wastewater, and watermains.
JFC, an infrastructure and civil construction company, was responsible for civil works, earthworks, and streetscaping works surrounding the shopping mall site.
BVT Consulting, an engineering consultancy based in New Zealand, provided coordinated seismic design for the entire mall. The contractual scope included design and construction monitoring for ceilings, shopfronts, partitions, and suspended equipment, as well as way-finding signs.
Fabritecture was responsible for the design and build of two architectural facades for the multi-storey car park.
Sculptform, an Australian supplier of modular wall and ceiling systems, supplied wood finish aluminium and click-on battens for the project.
JPRO, a New Zealand-based professional audio and video solutions provider, received a contract to supply the design and equipment for a multi-zone audio system for the project.
Oceanic Communications Limited (OCL) was engaged to install the audio system.
Cosentino, a Spanish supplier surfaces, was selected to provide the Dekton Danae slabs for the ventilated facade of the redeveloped mall.
Asphaltech Waterproofing provided the waterproofing solution for the podium.
Street Furniture NZ supplied the street furniture including bench seats, bins, balustrade panels, and cycle racks for the shopping mall.
Boffa Miskell, an environmental planning and design consultancy, was contracted to provide landscape architecture, and design a rooftop play area for children.