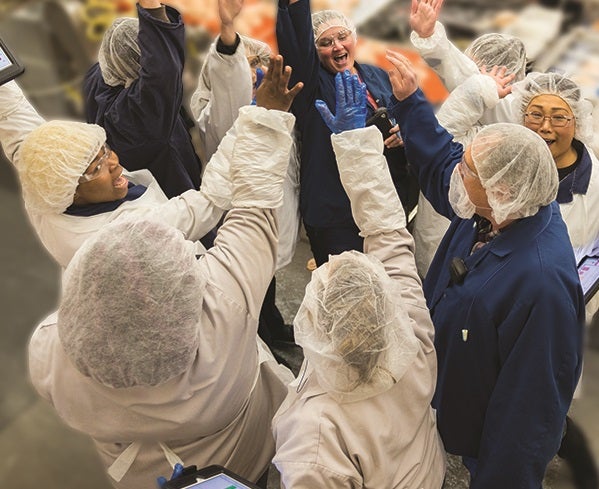 For good reason, Richard Tester is proud to extol the virtues of his company's connected workforce solution, proven to increase the productivity of the average food and CPG plant by an average of 22% in just 90 days. "We are changing the world of food manufacturing," he says.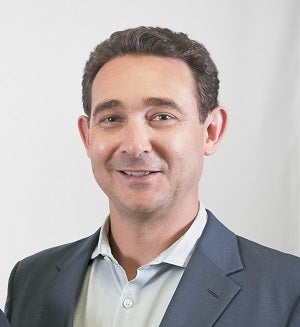 It's a world that can do with all the help that it can get. Food manufacturing, says Tester, is being severely impacted by two "apex business problems: inflationary pressure and the labour crisis." The latter of the two, accelerated by the Covid pandemic, is described by Tester as akin to the Titanic sailing towards the iceberg. "We have been seeing the problem out on the horizon for many years, but when Covid hit, many baby boomers left the workforce and they're never returning, so that's left a massive hole in the workforce, we hit the proverbial iceberg."
Normally, in any labour market as one generation leaves, it's backfilled by the next generation. But that is not happening in manufacturing because unfortunately, it has an image problem, for the current generations, says Tester.
"We have to reinvent the image. We've got to convey the fabulous things that the manufacturing community brings, both within a factory and the community it operates in; the camaraderie, team spirit, skills development and pride of actually making products that consumers love and sustain our families."

Manufacturing's makeover needs all the help it can get, says Tester. According to a recent report by the Manufacturing Institute or the Society of Manufacturing Engineers, only 27% of parents believe manufacturing is an acceptable career for their children. "This is a terrifying statistic as far as we're concerned. In the US, manufacturing will be 2.1m skilled workers short by 2030, as the last of the baby boomers exit the workforce. This is a crisis. So, the companies that are going to win in this next decade are the ones that can best reinvent their employee experience."
Enter Redzone, which was established to address these very issues in a way that empowers the frontline workforce and helps food producers to increase productivity exponentially along the way. Redzone was formed in 2013, while its connected workforce solution – which is combined with an intuitive coaching programme for frontline workers – was first bought to market in 2014. Redzone's technology is now present in 850 plants worldwide and set to reach 1,000 plants by the second half of this year.
"Our growth has largely been viral and organic. We really wanted to get to a kind of critical mass before we told the world," says Tester.
The rule of four
Redzone's success is built on a belief in four core 'pillars': 'Champions of the Frontline Worker'; 'Working with Purpose'; 'Productivity Now'; and 'Surprisingly Simple, Amazingly Fast and Remarkably Powerful'.
There's a sequence behind these pillars, says Tester. "The order is not random. Everything that we do begins with us being the 'Champions of the Frontline'. That is deeply embedded in our DNA. We understand the power of people and know ordinary people can achieve extraordinary things if they're empowered with the right technology, environment and skills."
According to Tester, "In manufacturing the magic doesn't happen in the conference room, it's out on the factory floor, where products are made. For far too long, the frontline worker has largely been ignored – treated like a commodity, a cog in the wheel."
It's a central thesis of Redzone's that there is a massive amount of latent human capital potential out there, waiting to be utilised. "Our mission as a company has always been to unlock this potential. The average office worker interacts with nine software applications a day. Most frontline workers interact with zero. If you spend your time walking around factories, you see scraps of paper everywhere. We simply aren't arming people with the technology they need to have a voice, be listened to, express ideas, and contribute their full potential."
For Redzone, real change begins by building "your entire proposition around recognising that this is the greatest opportunity for transformation in manufacturing in terms of productivity and culture," says Tester.
A sense of pride and accomplishment
The second pillar is 'Working with Purpose'. "Whether you're a CEO, or working on a production line, people want to have pride in their work and a sense of accomplishment," says Tester. "For too long, the frontlines have been largely ignored; their successes not recognized, or the failures not coached."
Redzone's platform features a scoreboard that provides visibility of whether a manufacturer is 'winning' or 'losing' on any production line. That starts, says Tester, to "bring purpose and meaning to those on the frontline. You don't just check-in and stamp out a product for 10 hours and go home. It helps you use your mind throughout the course of that shift to see how the team is doing, if something needs to be changed or if something should be escalated. Everyone wants agency over their work and to be empowered to put solutions in place to achieve that. The scoreboard is just one small element of what we do, but it's important because we then have a benchmark. From that, people can actually start to problem-solve together in the moment, without having to go through three layers of management."
A strong manufacturing industry is "the absolute backbone to any economy," says Tester. "We elevate the role of the frontline worker, and we celebrate their successes. We start a flywheel of success turning."
Which leads on to the third pillar of 'Productivity now'. For decades, different management strategies have been employed by manufacturers to improve productivity: from enterprise resource planning (ERP) to Manufacturing Execution Systems (MES) and more recently Internet of Things (IoT) applications on the factory floor. All, says Tester, have "largely underdelivered. People are talking about the 'smart factory of the future'. But the future is now. We've got food prices soaring 10-20% and most factories are short between, 10-100 workers. We need solutions to problems now."
Redzone's purpose-built, off-the-shelf productivity solution makes it the perfect fit to transform productivity within food and beverage companies, says Tester. "Our proof is we publish our results. We work with large and small food companies, global CPG companies and Mom and Pop shops. The average plant using Redzone increases its productivity by 22%, in 90 days. We benchmark pre-Redzone and we benchmark at the 90-day point. It's a body of work that is transformational."
The technology sits on a collaboration platform that doesn't intimidate workers – it's just what they're using in their home life via mobile technology. "We've designed very specific frontline action workflows," says Tester. "For example, if a line is performing inconsistently where there are two hours that are performing below target, the software will say, 'We're running below target here'. It will align maintenance, quality, production and identify the issue." Then, provide all the context around the losses so either the team can solve the issue themselves– with help from Redzone's YouTube-style '1 point lesson' videos built within the native app – or escalate the problem to management.
The final pillar is 'Surprisingly Simple, Remarkably Powerful, Amazingly Fast', which refers to how Redzone's product relies on a modern cloud platform. Historically, to implement a shop floor system, it would cost upwards of £1m and take 6-12 months to deploy, be capital intensive, and feature a raft of automation, much of which was unnecessary to achieve the productivity goals. Cloud and mobile technology enable Redzone to massively reduce outlay. "We design software for a great user experience for the people on the frontline, integrating it naturally into their workflows," says Tester. "They don't need to go on a training class to learn how to use it. When you signed up for Instagram, you didn't go on a three-week training course on how to post a message. It was intuitive and simple."
The 'Remarkably Powerful' element relates to the productivity and cultural impact the technology has. 'Amazingly Fast' refers to how the systems can go live in a matter of weeks, within a factory, plant-wide. "In change management speed is your friend," says Tester. "If you introduce a technology project on the shop floor, and tell people, 'This is going to start in February and finish in December', resistance builds." Conversely, Redzone deploys so fast into a factory, there's no time to build up uncertainty or doubt. "The level of change management actually required on the on the floor level is absolutely minimal," says Tester. 
The response to Redzone's offering has been exceptionally positive. "We have raving fans in our customer base," says Tester. "Our message absolutely resonates. If you run a factory network, what you know is for something to be sustainable, it's got to be owned by the people on the plant floor. Our philosophy is about inverting the triangle. The most important people in the business are the people out there making the product. It's our job to provide those people with the technologies, tools, skills and environment that they need in order to be able to flourish."
Redzone's technology works effectively in concert with high-level coaching for frontline workers. "Coaching for our solution ensures every customer achieves the business outcome which is the improvement in productivity, retention and engagement. Over a 90-day period, our coaches will spend four weeks on site. It's a very light touch, it's not heavy-handed consulting – they are effectively activating these new digital frontline-specific workflows that solve productivity problems. Our coaches are all fabulous. They come out of manufacturing, so they understand the challenges. Part of the magic is blending coaching with the technology," says Tester.
The client view: Honeyville
Nathan Hyde, Chief Operating Officer, at Redzone's 'Plant of the Year' client Honeyville, a family-owned leader in food ingredient manufacturing, says that prior to using Redzone's technology, its frontline and management were looking at lagging inductors that were at least a day old. "Due to this lag, our front-line and management teams didn't know if they were winning or losing in enough time to alter the outcome."
Honeyville Inc., headquartered in Ogden, Utah, USA, has been a national business-to-business leader in food ingredients since 1951. Honeyville started as a grain manufacturer and wholesaler. Through devoted family-owned leadership, Honeyville has experienced rapid growth and now boasts top brand customers from all around the world.

Today, says Hyde, his team has real-time, easily digestible data displayed everywhere throughout its plants. "Our teams now know what the expectations are and if they are meeting them, but even more importantly because we have linked all departments into the technology, they know what actions to take and who to connect with to impact those results."
Redzone has been critical to Honeyville as it has "been on a crusade" to improve its culture from top to bottom, says Hyde. "Our founder started the company to help employees. We have always cared deeply about our employees, but as we have grown, we found it difficult to connect the dots between what we delivered at the frontline and what the company needed to be financially successful. Through the implementation and dedication to living the principles taught by the Redzone coaches and following the workflows in the software we no longer struggle with the frontline being in the know. We have now established line-of-sight output targets that are communicated in real-time through the Redzone technology that links back to our profit-sharing bonus."
Redzone has helped make "winning easy" for Honeyville, says Hyde. "It's hard to believe we struggled for so many years to figure out that great people, with the real-time actionable information, and a stake in the outcome – profit sharing – will drive for, and deliver, the desired results. It really is that simple."