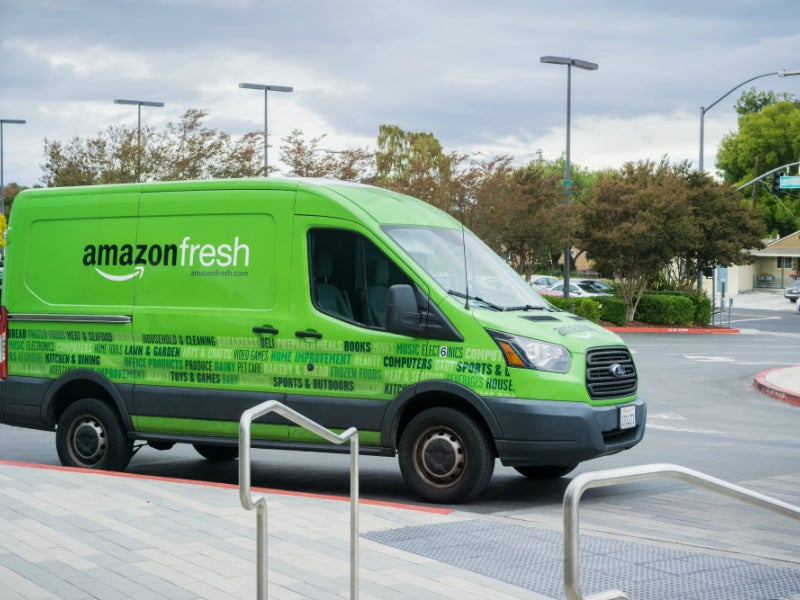 Amazon is trialling the online grocery delivery service with free delivery on orders over £40 to Prime members in 300 postcodes in London and the south-east of England. Amazon is capitalising on the huge jump in demand for grocery delivery with a wider ambition to extend the service to the estimated 15 million Prime users across the UK by the end of the year.
According to GlobalData's 2020 Coronavirus (Covid-19) UK Recovery Week 4 Consumer Survey, over half (56%) of UK consumers aged 25 to 34 somewhat / strongly agree they will order grocery deliveries from online meal delivery services more often than before. The Covid-19 pandemic has changed much about how and where we work, giving new market entrants a huge opportunity to target young adults. Additionally, smaller brands may benefit from the scale of Amazon's logistics network, as well as the potentially lower margins than traditional retailers. This is due to fulfilment centres that do not have the same limitations on space, in turn, providing a more cost-effective solution.
Amazon Fresh offers thousands of grocery items from common staples to more upmarket brands like Booths and Whole Foods. This broader approach appears to be a smart strategy to appeal to as wide a range of consumers as possible, particularly as rival supermarkets like Waitrose deliver to registered users for their retailers only. In comparison, Amazon has already expanded the same-day offerings with Morrisons, demonstrating a commitment to work with retailers across the entire price spectrum.
What are the motives?
The Covid-19 pandemic has provided an opportune moment to capitalise on huge changes in consumer behaviour, encouraging Amazon to quickly roll out the delivery service. The offers of free deliveries are a huge advantage to the consumer that simultaneously poses a significant threat to rivals. Amazon Fresh is in a unique position in which it can rely on the wealth of the parent company to bankroll its launch. It appears Amazon Fresh is content to operate at an initial loss if it means Amazon can steal market share from established competitors like Ocado.
Furthermore, Amazon Fresh is an Amazon Prime benefit available at no extra cost to existing subscribers. This suggests the current scheme is part of a wider plan to entice the millions of loyal users into an over-arching consumer ecosystem. While Prime remains a premium subscription channel for a range of services, the added benefits of grocery delivery will further encourage customers to shop entirely through Amazon subsidiaries. This will likely be supplemented by the later launch of Prime Air, an automated drone delivery service currently under development.