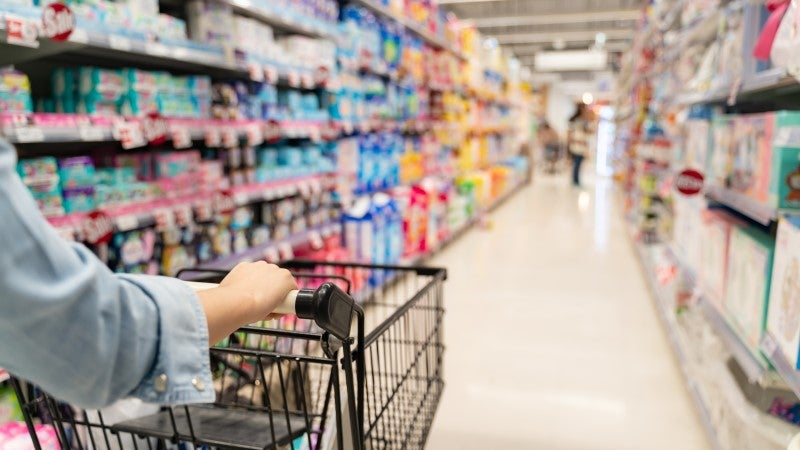 British retailers are checking in to the checkout-free race against e-commerce giant Amazon. With Amazon rumoured to have more than 260 checkout-free stores in their UK plan for the next three years, Tesco, Sainsbury's and Aldi are also trialling the technology.
However, results from GlobalData's latest UK Consumer Views Survey cast doubt, suggesting that retailers rolling out checkout-free technology have many issues to address in their marketing before they win over consumers.
Ambient commerce has 44% approval among UK consumers
Ambient commerce is a term used to describe a new form of retail that uses technology such as artificial intelligence (AI), cameras, sensors and QR codes to allow customers to select and pay for their goods without the need for checkouts or tills.
GlobalData's latest survey provided insight into ambient, checkout-free retail. 2,000 consumers were asked whether they would use a checkout-free grocery store in a convenient location to them; 44.3% of respondents said yes, 55.7% said no.
While the figures may sound concerning for retailers looking to trial ambient commerce, the technology is still nascent. There are very few checkout-free stores across the UK, the majority of which are located around London. The results could, therefore, be interpreted as hopeful; many of those surveyed are unlikely to have much knowledge about the stores, let alone the opportunity to try one.
Reducing set-up friction will improve consumer adoption
Of the consumers that stated they would not use a checkout-free grocery store, 42% said that the need to download an app or register payment details first was behind their reasoning, while 21% worried that they would be confused by the technology. These responses suggest that retailers in the UK must reduce the set-up friction and complexity by selecting in-store technology vendors offering a more accessible shopping experience. One example is Amazon's 'Just Walk Out' technology, which offers credit card, unified app or biometric entry for checkout-free stores.
Meanwhile, Carrefour's latest collaboration with AiFi may provide an even more frictionless alternative. Although not truly checkout-free, customers do not use a traditional checkout at Carrefour's Flash 10/10 store in Paris, France. In-store technology – including HD cameras, in-shelf sensors and AI – track the customer and create an anonymous virtual avatar with a virtual basket. Unlike Amazon's technology, customers do not enter through a gateway but instead, use contactless payment at a kiosk upon exit. Without the need to pre-register their payment details or download an app, consumer adoption may prove faster with AiFi's technology.
Retailers must address consumers' concerns around checkout-free technology
Consumers that stated they would not use ambient commerce had many concerns with the new technology, aside from set-up friction.
35% would not use a checkout-free grocery store because of concerns with data privacy. Waning public trust in big tech – such as Amazon, a dominant force in checkout-free retail – may stem the growth of the technology. As traditional British retailers jump on the checkout-free trend, this concern may diminish, however, companies must be transparent with how customer data is collected and used.
32% would not use a checkout-free grocery store because they were concerned about the potential job losses that checkout-free stores represent. Yet, in most checkout-free stores, employees are still necessary for the maintenance of the shop floor, and the selling of age-restricted goods. And many checkout-free technology providers, such as AiFi, offer a combination of checkout possibilities, allowing the customer to choose a traditional checkout or trust in the ambient technology. Retailers should directly address UK consumers' concerns with job loss by providing transparent figures on employee retention, or through improved marketing campaigns. However, it should be noted that self-checkout technology was quick to spread across the UK, despite initial concerns of job loss.