Inflation and supply issues caused by the pandemic and the Ukraine conflict are continuing to disrupt grocery aisles across the UK. Unsurprisingly, price hikes across grocers are leading to new shopping behaviours as consumers adapt their food & grocery consumption to align with new budgets and spare their savings. The most common strategy among UK shoppers (32.3%) is switching to cheaper products from the same retailer, closely followed by buying less overall (29.1%). Notably, 27.8% of UK consumers do not expect any changes in their shopping habits despite rising prices. However, this is skewed heavily by more affluent 55+s, so those retailers targeting a younger, less affluent customer base such as Asda and Morrisons, will see a much greater share of their shoppers purchasing more cautiously in 2022.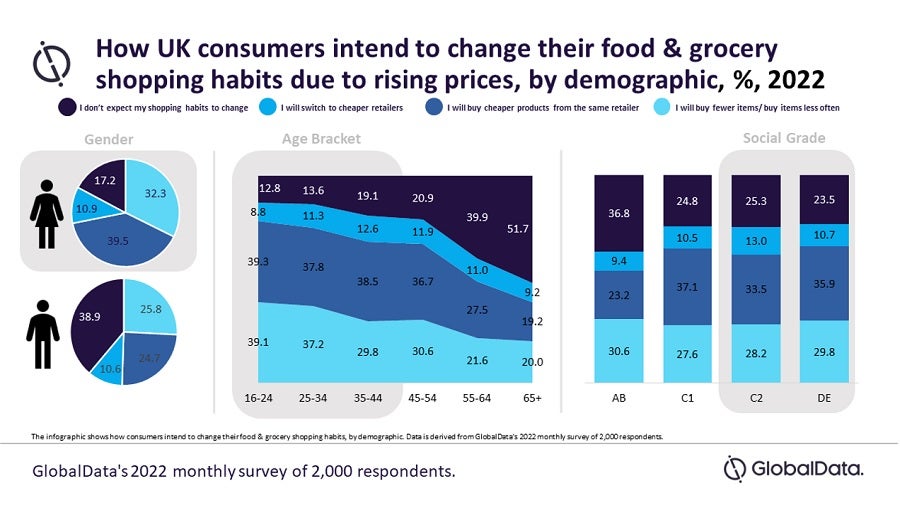 The above graphic compares three demographic splits—gender, age, and social grade*—and highlights in grey who is most likely to change their shopping habits in light of rising prices. Women are more likely to engage in the aforementioned budgeting strategies; only 17.2% are resistant to shopping changes compared to 38.9% of men, with women more likely to be the shopper and in charge of the grocery budget, especially for larger families. Younger consumers also skew more towards trading down, with smaller savings, bigger financial burdens and weaker loyalty to brands or retailers versus older demographics.
These notable variances across consumer groups do not favour Asda and Morrisons. Asda's audience skews towards a younger, less financially stable base. As a result, the company will be most affected by shoppers trading down as they search for the cheapest prices or cut back on products overall. Similarly, Morrisons has the fewest AB social grade shoppers and therefore must also prepare against the impact of downtrading. Asda and Morrisons are taking reactionary measures to mitigate against potential trading down and to help cultivate loyalty, with both retailers promising to slash prices on essential items by 12-13% to cater to shoppers' tightening budgets. Discounters have the biggest opportunity to steal customers and market share from Asda and Morrisons, so emphasizing private label quality, ensuring price competitiveness across their 'good' and 'better' ranges and securing product availability will be crucial to retaining customer footfall.
Meanwhile, more than half of 65+s do not expect a change in shopping habits, and the least affected social grade is AB since this group has more disposable income, has been able to save during the COVID pandemic, and has fewer financial responsibilities. This will therefore favour the likes of Waitrose and Sainsbury's.
Out of the top six UK grocers, Sainsbury's will be the most unaffected by trading down and switching. As the nation's second-largest supermarket chain, it tends to target an older and more loyal customer base who fall in the AB and C1 tiers. Unusually, the retailer has an even gender split, with slightly higher popularity among men; as per GlobalData's research, 50.9% of UK men shopped at Sainsbury's in the last year, compared to 49.7% for UK women, reducing the impact from women trading down. However, Sainsbury's is perceived as more premium which could reduce the loyalty of its younger, family shoppers, so adding new lines to its Aldi price match scheme earlier this year and continuing to use an 8-week price lock scheme on selected products will help to prevent trading down. In the coming months, the effect of trading down will become more pronounced, as prices continue to rise and shoppers feel the increasing strain on budgets. Retailers must continue to cater to the cash strapped shopper with price locks, loyalty programmes and price matches – at the expense of margins and profitability in the short term, else risk long term shopper abandonment.
*Social Grade Definitions:
AB: Higher & intermediate managerial, administrative, professional occupations
C1: Supervisory, clerical & junior managerial, administrative, professional occupations
C2: Skilled manual occupations
DE: Semi-skilled & unskilled manual occupations, Unemployed and lowest grade occupations