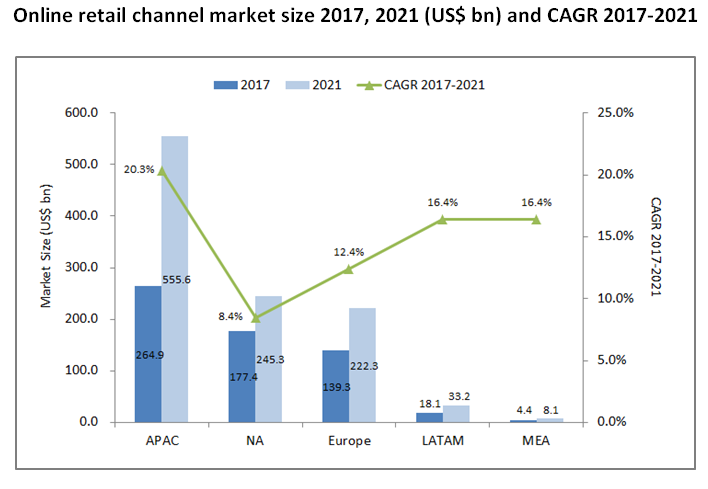 According to GlobalData estimates, global retail sales stood at US$16,279.2 billion in 2017 and sales through online channel accounted for 3.7% of the overall sales, at US$604.1 billion in 2017. Sales through the channel are projected to register a strong growth to reach US$1,064.5 billion and account for 5.1% of the total sales in 2021.
Among the regions, Asia-Pacific is projected to register the fastest growth in online sales. Increasing economic prosperity, access to internet, burgeoning youthful population and exponential rise in smartphones has propelled the sales through online channels in the recent past. According to GlobalData, online sales in Asia-Pacific stood at US$264.9 billion in 2017 and are forecast to register a healthy CAGR of 20.3% over the next four years to reach US$555.6 billion by 2021.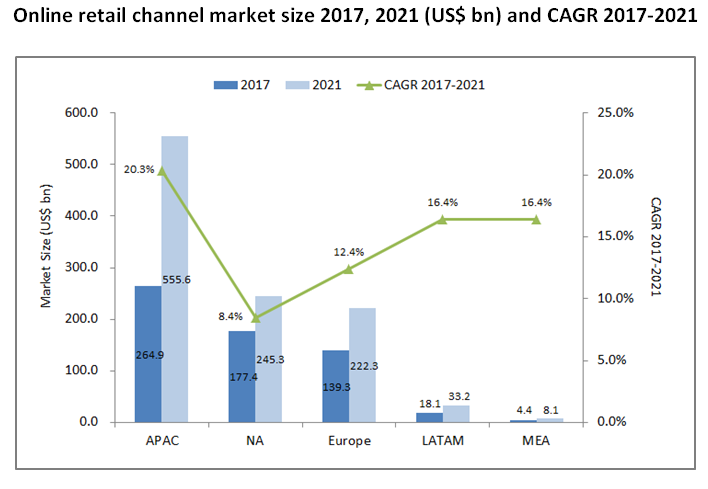 Sensing the opportunity in online retail, several retailers are investing heavily in augmenting their online infrastructure to cash in on the increasing sales through online channel in the Asia-Pacific region. Global online retailing giants such as Amazon and Alibaba are investing heavily in expanding their online operations in the region. Amazon's aggressive expansion plans in India with a planned investment of over US$5 billion, Alibaba's entry into Indian market with an investment of INR17 billion in Paytm (a payment platform and e-commerce player) underscore the importance of Asia-Pacific as a sweet spot for global retailers eyeing online expansion. Additionally, Alibaba's invested US$2 billion in Lazada, an e-commerce company owned by Rocket Internet and Zara launched of online shopping website in Australia in March 2018. These investments stand testimony to the increasing importance of Asia-Pacific region being a hotbed for growth of online retailing.
Also, according to GlobalData's report 'Smart Money Investing in the Retail Industry in Q4 2017',  another major indicator highlighting the increasing importance for online retailing in the region is the interest among the venture capitalists to invest in online retailing companies in the region. Venture capitalists are leveraging the growing demand for online retailing in the region and the funding is being utilized by online retailers to broaden their scope and introduce new product categories along with expanding their reach into other countries. All these factors combined will drive the penetration of online retailing in the Asia-Pacific region over the next few years offering huge scope for retailers to steer growth.