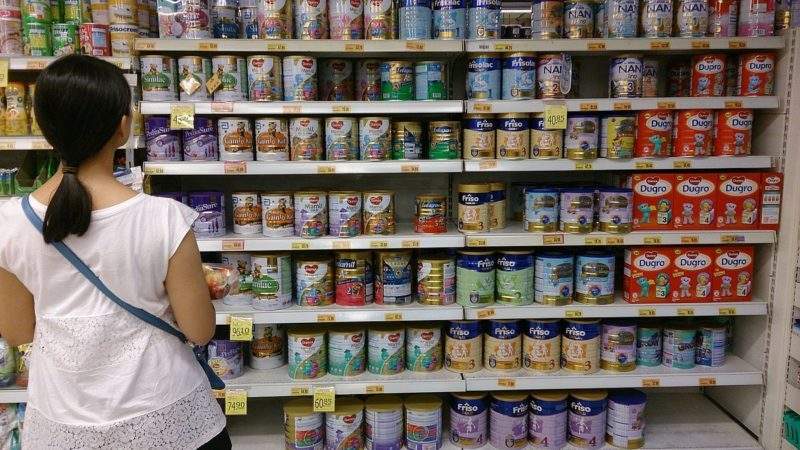 There is a very real possibility that the seemingly insatiable demand for Australian manufactured formula in China could lead to a seismic shift in the way formula is sold.
Parents are routinely faced with empty supermarket shelves and the need to visit multiple supermarkets to source their formula of choice. Others are reluctantly forced to change formula brands when they are simply unable to source their preferred options.
Contrast this to the promise from manufacturers that if they order online, a parent will receive three tins of their preferred brand within 24 hours (slightly longer for more regionally remote areas). It seems inevitable that more and more parents will decide that online purchasing is the way forward.
Domestic vs international
While infant formula manufacturers in Australia are metaphorically rubbing their hands with glee at the ever rising demand for their product in China, domestic consumers are not so happy with the phenomenon.  For the past year and more there have been reports that parents within Australia have struggled to find supplies of formula for their infants.   There are photos on social media of empty shelves that were once full of brands such as A2, Bellamy's or Karicare, and others showing consumers buying up formula in bulk despite a limit per customer being in place.
It is a real and still growing problem and now one retailer in Australia has taken the rather drastic approach of restricting sales of formula to a 'behind the counter' transaction.  Coles – one of the key retail outlets for baby milks – has decided that this is the only way it can ensure that Australian parents can buy the formula of their choice. Its main retailing rival Woolworths has declined to follow suit – yet – but has reinforced its two can per person limit.
The tins of formula are being bought out by Chinese 'daigou' shoppers who then sell them on to Chinese buyers via apps such as WeChat, who are prepared to pay up to five times the purchase price for the guarantee of a clean formula for their infant.   As long as babies are still being born in China there is unlikely to be any reduction in demand from this source and it will remain an issue within the Australian market for some time to come.
Online vs in-store
There are several issues at play for Coles and Woolworths. Firstly they were comparatively late into online retailing and consequently consumers are used to buying from other types of online outlet rather than necessarily sticking to the online version of their favourite bricks and mortar establishment. Throw into the mix the reassurance of buying infant formula direct from the manufacturer and you have a powerful reason for parents to make the switch.
Secondly – and more importantly – parents have traditionally been a key consumer group for grocery outlets. They tend on average to spend more, and having been enticed into the store to buy formula, tend to do the rest of their grocery shop there as well. That is an awful lot of potential lost revenue.
In March 2018 Macquarie Bank noted that while domestic online sales accounted for just 5% of total retail sales (ABS) they are currently growing at the rate of 32% per annum. All told, domestic online sales currently account for more than half of total retail sales growth in Australia, compared to half that amount a year ago and less than 10% two years earlier.  It is not too fanciful to attribute a significant proportion of this trend to the move to purchase formula online.
Australian formula manufacturers have been at pains to reassure parents that supplies are sufficient to meet domestic demand. The a2 Milk Company has taken out adverts to push home the message that it will guarantee that any Australian mum or dad who wants to buy a2 platinum can do so when ordering online at A2nutriton.com.au. The Karicare and Aptamil brands similarly are available for sale via the MumStore.com.au website.
Grocery retailers such as Coles and Woolworths do still remain the key source of supply for baby milks – GlobalData notes that grocery stores now dominate the distribution of baby milks, accounting for an estimated 89% of value sales in 2016. However, their online rivals are charging ahead and quickly chipping away at this share, and the physical retailers are clearly worried.
Related links
https://www.globaldata.com/store/report/bf205mr–the-baby-food-sector-in-australia-2017/
For more insight and data, visit the GlobalData Report Store – Food Processing Technology is part of GlobalData Plc.