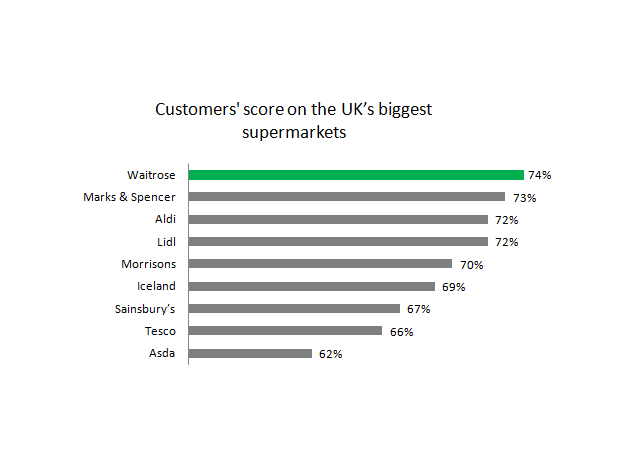 Waitrose 's brick and mortar supermarkets are the best in the UK, according an annual customer satisfaction survey by Which? Which? asked 7,004 UK respondents to rate nine instore supermarkets based on factors such as value for money, length of queues, store appearance, and quality of fresh foods.
With a score of 74%, the upmarket grocer was praised for 'its superb food and easy-to-navigate stores,' as well as staff availability and helpfulness. The fact that the store has the highest rating despite not always offering the cheapest deals, outlines the importance of staff training and maximizing customer-friendly store policy over low prices.
The supermarket was closely followed by another UK upmarket retailer, Marks & Spencer, which gained 73%, with customers saying that they loved the quality of its own-label and fresh food.
Both of the supermarkets were ranked ahead of discount stores Aldi and LIDL , which were recognised by Which? respondents for offering the best value for money. This shows how competitive prices are vital, but not the most important factor in the overall shopping experience.
With fierce rivalry among the supermarkets for a share of shoppers' wallets, fuelled by competition with online retailers, the importance of footfall is especially high.
To avoid a race to the bottom and competing on price only, retailers must pay extremely high attention to overall shopper experience, such as easy navigation and customer help available.