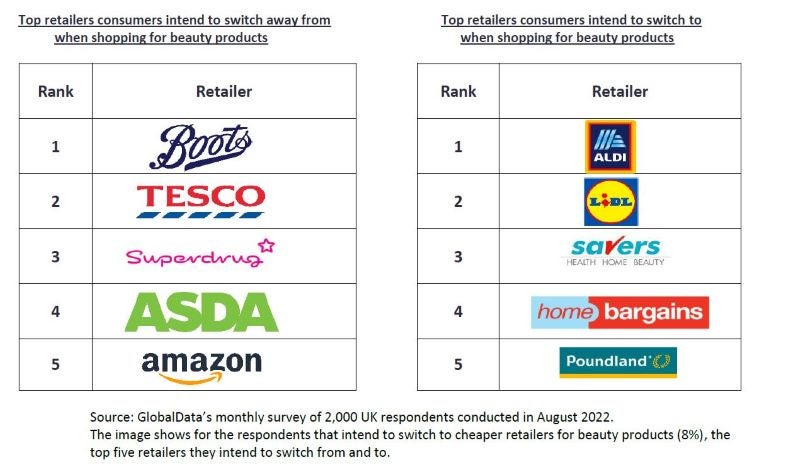 As UK consumers consider how they can cut back spending, with the price of goods and monthly bills rising sharply this year, the discounters are an appealing choice for health and beauty products. GlobalData's latest monthly survey conducted in early August 2022 shows that those that intend to switch to cheaper retailers primarily expect to trade down to Aldi and Lidl. The low prices at the discount grocers continue to draw in more consumers for their food shops but there is also growing momentum for their strong health and beauty ranges. With both retailers still ploughing ahead with opening stores, they will become more accessible to more UK shoppers this year.
Aldi and Lidl have robust reputations for own brand toiletries and everyday items like baby products, however the lack of branded items may put off some shoppers, particularly when looking for beauty items. When considering changing shopping habits for beauty products, more consumers expect to buy fewer products less often (33%) than switch to cheaper products, retailers, or brands (21%). Other discounters such as Savers, Poundland, and Home Bargains may be able to fill the gap for some branded products but are unlikely to offer the same wide range as the health and beauty specialists and big four grocers.
Although the two market leaders, Boots and Tesco, recognise the importance of price and have focused on communicating their offers via their loyalty programs (Boots Price Advantage and Tesco Clubcard prices), they are the two that consumers are most likely to switch away from. The discounters have a smaller share of the UK health and beauty market, with the top 10 dominated by health and beauty specialists and the big four grocers, but their share is growing and they will gain customers as a result of the cost of living crisis, making them a rising threat for the key players.