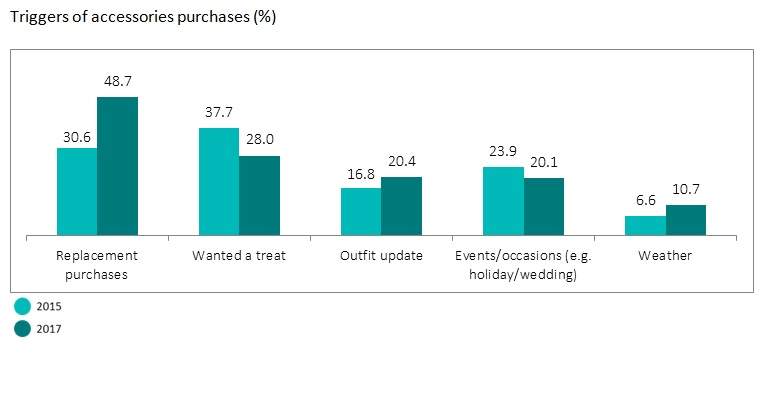 While the premium and luxury segments of the UK fashion accessories market bask in the attention of high spending overseas visitors, the mass market players are suffering from a major drop in domestic consumer willingness, and ability, to purchase items such as jewellery and bags.
In 2017 the share of UK clothing shoppers that purchase accessories has fallen from 50.6% to 40.9%, equating to four million fewer consumers and lost sales of £390m (7.5% of the total 2017 market), based on an average annual spend per head of £98. This is putting huge pressure on retailers to encourage trading up or diversify to offset the absent sales from these shoppers.
There has also been a significant shift in spending motivations among those still purchasing accessories in 2017, so this, combined with the drop in shoppers, is making it harder for retailers to drive volumes, leading to a forecast decline of 0.7% for full year 2017, against a flat performance in 2016. Replacement purchases are now the main trigger of purchasing accessories among domestic shoppers, compared to consumers spending because they want a treat. This is a major blow for retailers as consumers will extend replacement cycles during periods of restrained discretionary spending, and driving impulse, wants-driven purchases becomes more challenging – particularly for specialists Accessorize and Claire's which are unable to stimulate footfall via other categories.