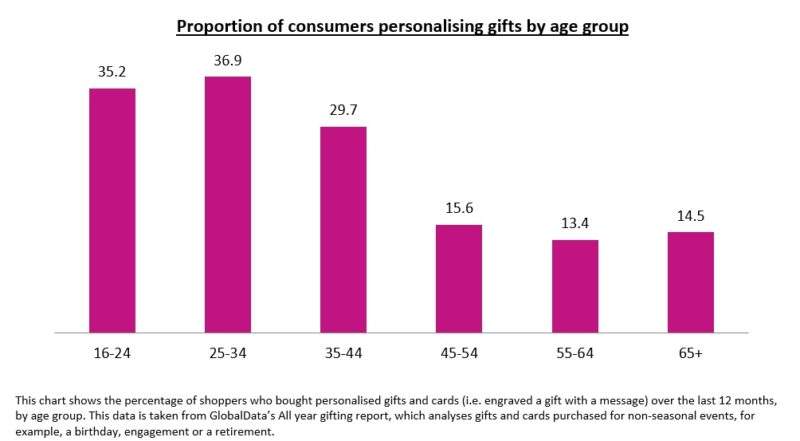 Millennials are buying into bespoke, one-of-kind gifts for their loved ones, with under 35s far more likely to personalise a gift compared to older consumers.
Retailers targeting these shoppers are currently not making the most of this opportunity and should learn from players such as notonthehighstreet, which offers a market leading range of personalised products and services
Offer 'do it yourself' personalisation areas instore over key gifting periods
Giving consumers the opportunity to personalise gifts is key for retailers wishing to differentiate themselves in an increasingly crowded and competitive market place. Major players have recently invested in this trend, for example over Christmas 2017 Marks & Spencer offered "personalisation stations" in stores where shoppers could decorate presents such as baubles and t-shirts with gift recipients' names. Over the same period Primark gave shoppers the opportunity to customise Disney t-shirts instore, charging just £8 for this service including the t-shirt. In order to keep pace in a competitive marketplace other retailers must follow suit, particularly those with a young consumer base, offering fun instore experiences to drive footfall and trade.
Invest in a strong range of personalised products
One factor driving personalisation in gifting is the current millennial trend towards monogram accessories, for example mugs and notebooks featuring the consumer's initials. Items such as personalised nameplate necklaces have also performed well over the last year with supermodel Bella Hadid's signature necklace inspiring young gift shoppers to buy into this fashion. Retailers targeting young consumers must provide personalised products and gifts that can be customised to capitalise on this movement. For example, ASOS could offer free engravings on watches or other accessories over £50 around key gifting events such as Christmas or Mother's Day, incentivising shoppers to trade up. The online pureplay could benefit from having dedicated, user friendly webpages offering monogram and personalised gifting, as the likes of notonthehighstreet and Next are already offering this.
Minimise costs by offering these services on high margin goods
Personalisation will come at an extra cost for retailers as it will slow down efficient supply chains,  requiring additional steps in comparison to off-the-shelf items, however to target millennials, who often have more constrained budgets, they must be able to offer these products at competitive prices. One way to overcome this barrier is to provide this service only on margin-rich products, for example, cotton makeup bags or t-shirts where the basic product can be cheaply imported in bulk then printed, embossed or embroidered in the UK or closer to the end of the supply chain.
Offer a competitive delivery proposition
Providing personalised gifts will often extend delivery times as retailers will have to either customise products in their own warehouses or outsource this to an additional company if it cannot be done by the original supplier. However, online pureplay notonthehighstreet does offer selected personalised products for next day delivery, appealing to last minute gift shoppers. Retailers must ensure they have the capacity to quickly turn around the personalisation of gifts, charging a higher cost for this service. This may involve forecasting demand for popular products e.g. pre-inscribed common names, to ensure rapid delivery.