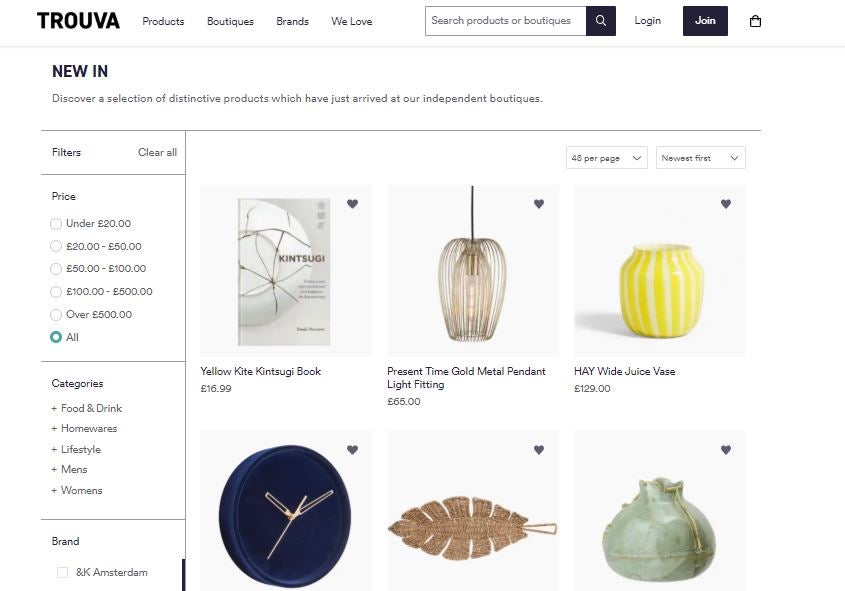 The shift to spending online is frequently blamed for the 'death' of the high street, and retailers are rightly concerned with the threat posed by Amazon. But more visually dynamic online marketplaces also have the potential to capture spend, particularly on decorative home products, by providing a platform for the differentiated products of independent retailers.
The future of online marketplaces
As bricks-and-mortar retailers continue preparing for online channels to capture a greater proportion of consumer spending, they are wisely considering how they can compete with Amazon. Its vast number of SKUs, loyalty-generating Prime membership scheme, and marketplace of individual sellers all pose a threat. However, retailers should also be aware of the rise of other online marketplaces, particularly those which are more suited to browsing and providing inspiration, and which showcase unique, design-led products.
This type of online marketplace has already proven successful in fashion. Since it floated on the New York stock exchange last year, Farfetch, which brings together large and small premium clothing retailers on its online platform, has attained a market value of c. $7.7bn.
Within home and furniture, the one to watch is Trouva — a platform which showcases a curated range of contemporary products from over 700 boutiques in the UK and abroad.
For smaller independent retailers, belonging to an online marketplace represents a gateway to a larger customer base, and can offer them an alternative revenue stream at a time when town centres are suffering from declining footfall. In return, Trouva makes a commission on each sale, manages the inventory and handles customer service queries on behalf of the boutiques. Like homewares and furniture pureplay Made.com, Trouva entices shoppers with an introductory offer of a 10% discount if they subscribe to marketing emails, and its flat charge of £2.99 delivery (for UK customers purchasing from a UK boutique) is more competitive than Made.com.
Despite the success of Farfetch in the premium and designer clothing market, the online marketplace model is arguably even better suited to midmarket independent homewares retailers. Methods of manufacturing make smaller operations much more viable in home products compared to clothing, where small quantities of fabrics suitable for garments can be prohibitively expensive, and sizing/availability issues can dictate frequent markdowns.
Like Wayfair and Notonthehighstreet.com, Trouva will benefit from consumers' desire for unique and personal effects for their homes in lower cost categories such as decorative accessories and tableware, or when purchasing gifts. But to stand out from its competition, Trouva will need to continue to curate its ranges to offer a better browsing experience than that of its rivals and must invest in marketing to clearly communicate how it champions small businesses. The importance consumers are placing on sustainability and provenance, as well as the desire to support local businesses mean marketplace websites like Trouva are poised to capture more of the online homewares market — especially when these purchases are driven by the desire for a new look or by impulse.