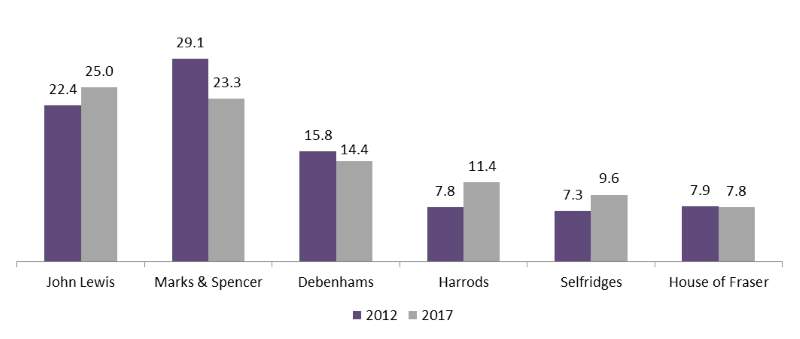 During a period of retailers fighting even harder for their share of limited consumer spend, there is an even greater onus on the retailer to indulge, delight, spoil and surprise their customers. Following announcements in the last week of impressive double-digit sales growth from both Harrods and Selfridges, they have now grown their combined share of the UK department stores market by 40% over the last five years, and are set to take over a fifth of all consumer spend via the channel in 2017 – despite operating from less than 5% of total department store space. Meanwhile, few of their UK department store rivals have mastered the art of consistently treating their customers, with unreliable ranging, experience and service leading to share erosion.
Retailer share of the UK department stores market (%), 2012 and 2017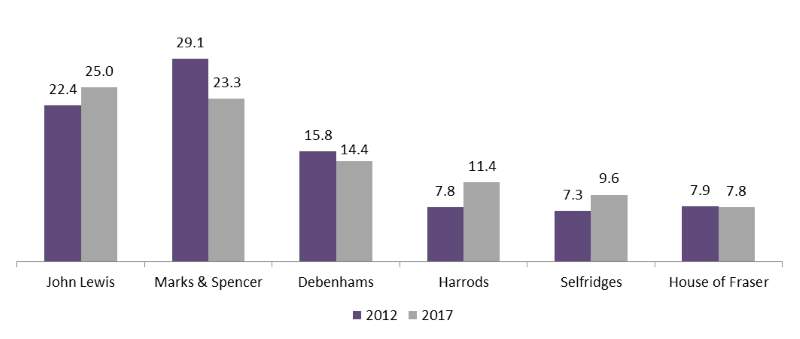 Tourism has played a major role in the performance of the luxury players in 2016 and 2017, with total inbound visits to the UK up 4.1% in 2016 and overseas holidaymakers to the UK up 19% between January and July 2017 (according to the ONS) compared to the same period in 2016. Following the fall in the value of the pound, we have seen the luxury brands not-so-discreetly increase their price points to help offset weaker traffic in other European stores, taking advantage of spiked demand and build in the impact of rising inflation in 2017. Overseas visitors, however, have still been able to take advantage of lower prices versus their home market – leading to Harrods and Selfridges reporting double digit sales and profit growth for FY 2016/17.
However, we also expect domestic spend at Harrods and Selfridges to have outperformed the wider department stores market despite their aspirational and premium positioning. Their authority in innovating space and experiences and curating must-have, relevant brands leaves Debenhams, Marks & Spencer and often House of Fraser behind in terms of relevance to their core customer base.
Take Harrods' baby and nursery department or Selfridges' accessories emporium, both offer customers widely available brands whether it be Bugaboo or Mulberry at the same prices found elsewhere but the experience is far superior with decluttered shop floors, knowledgeable staff and attractive visual display stimulating browsing and dwell time. These strengths do not have to be exclusive to the luxury end of the market, and while we are starting to see improvements come through from John Lewis, the department store chains with older format, legacy stores fail to treat customers with consistent, exceptional experiences and service.
Experiential retail and services have always been key to Harrods and Selfridge's ethos, with the toys department and Urban Retreat spa at Harrods and the quality of food service options at Selfridges as prime examples. Their mass-market competitors are only now really catching on to this vital characteristic of a department store – returning back to the role these stores played 20 years ago. John Lewis has heavily publicised its new Oxford store as being experiential-led with a fifth of space allocated to services, while Debenhams has committed to driving growth via third party services, but House of Fraser and Marks & Spencer have stayed quiet. These players must identify which instore services and experience-led departments will draw in customers and increase dwell time to benefit their future financial performance.